General (Social Media)
Looking for common social media acronyms and shorthand? How about etiquette tips for different platforms? These articles have got what you need when you're trying to find your way around Twitter, YouTube, Facebook, and more.
General (Social Media)
Books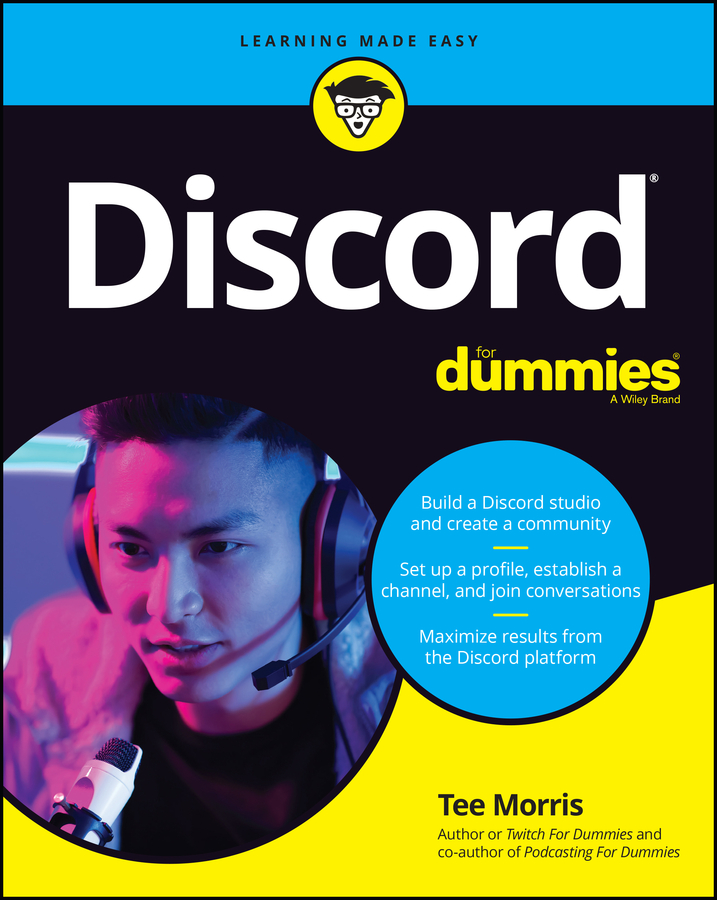 General (Social Media)
Discord For Dummies
Published 05-19-2020
Connect with the newest and most vibrant online community
Though it was originally a virtual meeting place primarily for gamers, Discord's userbase has quintupled in size in just two years and branched to include discussions on a multitude of topics. Discord For Dummies shows readers how to connect with the massive Discord audience, both within and well beyond the gaming niche.
Celebrated writer, broadcaster, gamer, and technologist Tee Morris teaches readers how to set up a profile, establish channels, and join other conversations. Along the way, he'll show you how to grow your audience and utilize Discord in your business. You'll also learn to:
· Play by the rules of Discord, both written and unwritten
· Build a Discord studio
· Create a community
· Acquire must-have accessories
With an audience of over 250,000,000 active users, you can't afford to ignore the Discord community. Discord For Dummies is perfect for businesses seeking a larger audience, established media looking for a presence in private chat, and groups looking to organize their communication.
Explore Book
General (Social Media)
Twitch For Dummies
Published 01-14-2019
The first full resource to offer advice on tapping into Twitch
Twitch got its start as a live-streaming platform mostly populated by gamers and their fans. It's quickly grown to host streaming events of all kinds—concerts, conferences, production events like podcast recording sessions, and even pro sports.
Twitch For Dummies helps initiate those new to streaming with advice on how to launch and build a Twitch channel. Podcasting For Dummies author Tee Morris guides readers through the basics of starting a channel, streaming games or live events, growing and interacting with an audience, and how to overcome common tech glitches.
• Build a streaming studio
• Create your Twitch profile
• Find successful streaming strategies
• Interact with your audience
This guide offers friendly, reliable advice for broadcasters, marketers, and video fans on how to tap into the most popular online live-streaming service.
Explore Book
General (Social Media)
Facebook, Twitter, & Instagram For Seniors For Dummies
Published 12-18-2018
Enjoy the top social media sites with ease and security
Done correctly, social media is a way to connect friends, family, and the world while still maintaining security and privacy. Facebook, Twitter, & Instagram For Seniors For Dummies, 3rd Edition offers advice on how to enjoy the three most popular social media options while avoiding worry about who sees what you share.
Written by social media expert Marsha Collier, this book walks you through establishing accounts, making connections, and sharing content including photos and video. You learn the settings to adjust on each platform to maintain privacy and filter out the content you don't want. This book also explains the subtle art of avoiding or blocking people on social platforms without jeopardizing your real-world relationships!
Take control of what you share
Connect with others
Take and share your best pictures
Use social media as a news source
Social media sites are great fun once you learn how to cut through the clutter—and this book shows you how!
Explore Book