How to Use Illustrator to Create a Unique Image for Your Social Media Site
How to Use Illustrator to Create a Unique Image for Your Social Media Site
The best way to optimize your social media site is to communicate your brand with a unique image. If you have a steady hand and some artistic talent, you may want to try your hand at sketching something that represents how you want to present yourself to the world. Keep reading for tips on how to achieve some cools looks by using a feature of Adobe Illustrator called Live Trace.
With some time and practice, you'll be able to produce artwork from an ordinary photo that looks a little like the famous "Hope" poster used by President Obama's campaign in 2008. Or you can strip your portrait photo to its most basic curves and lines, and then use the Fill and Paintbrush tools to do the equivalent of paint-by-numbers on your own portrait.
Follow these steps for a good start on using Illustrator to achieve a cool look quickly: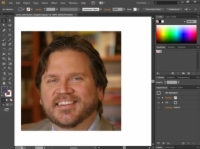 1

Open a standard portrait (it can be in JPEG, PNG, or just about any other image format) in Illustrator.

Start with a simple portrait photo, suitable for Twitter, Pinterest, YouTube, or many other social media sites.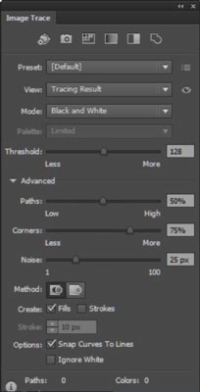 2

Click the image to make it active.

A thin blue box appears around the image, and you can now edit the image.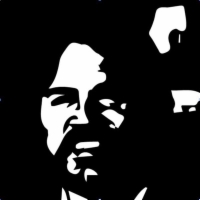 3

Using either the Preset drop-down menu on the top status bar, or the drop-down menu that appears next to the Preset option in the Image Trace panel, click the Default option to convert your photo to line art.

The image is converted to a simple black-and-white sketch. If you don't like this effect, simply press Ctrl+Z (on a Mac, cmd +Z) or choose Edit→Undo Image Tracing to undo the action.
4

From the drop-down menu next to the Image Trace button on the toolbar, choose how you want to convert your photo to line art. If you want to exert more control on the Image Trace process, choose Window→Image Trace to open the Image Trace panel.

The panel can be docked with the other panels on the right-hand side, or you can float it around your screen wherever you like.

If you just want to do a simple conversion, ignore the more complicated options in the panel and just use the drop-down menu that appears in the top status bar.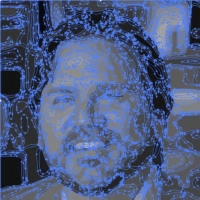 5

To take total control of how the image looks, choose the Image Trace option you like best and then choose Object→Image Trace→Expand.

You see all the paths that Illustrator has broken your image into. You can now select each area in your photo, and paint, use a Fill tool, or replace the color to customize your image. This "paint by numbers" approach can get quite complex.

For an oil painting look: Choose 16 Colors from the Image Trace drop-down menu. This reduces the number of colors displayed in the image to only 16, while converting the image to look as though it had been painted by hand.

For a monochromatic look for your image: Choose 6 Colors from the Image Trace drop-down menu. You get the same smooth lines and slightly "creamy" look for your image as when choosing 16 Colors, but the color palette will be reduced to only six colors.

The biggest benefit of converting an image using Image Trace is that the image can now be blown up or reduced in size without affecting the quality. This means that if you're using a photo for your company logo, you can now produce a version of it that could be enlarged to put on a billboard or reduced for a business card (or Twitter profile) without damaging the quality.