How to Insert Background Images on Your Twitter Profile
How to Insert Background Images on Your Twitter Profile
After you decide on the image you want to use in your background, uploading it to Twitter is relatively easy. Follow these steps to upload and position a Twitter background:
1

Open Twitter in your favorite web browser.

Log in to your user account.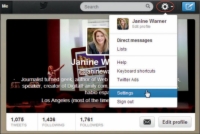 2

Click the Edit Profile button at the top right of the browser window.

The Edit Profile button looks like a gear.
3

Click the Design link on the left site of the Account page that opens.

The Design Settings open.
4

In the Customize Your Own section, click the Change Background button.

The Change Background drop-down menu opens.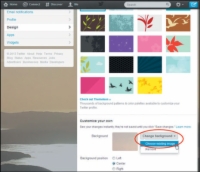 5

From the drop-down menu, select Choose Existing Image.

The Choose File to Upload dialog box opens.

If you want your background image to fill the screen on high-resolution monitors, make sure that it's at least 1400 px wide.
6

Select any image from where it's stored and choose Open.

The selected image is uploaded to Twitter, but it may not be visible until the page is saved.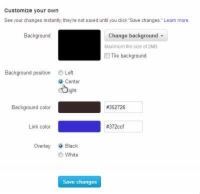 7

Choose an alignment option from the Background Position section.

Think carefully about the positioning of your image. It can be a vital part of your design.
8

Click the Save Changes button.

The background is saved and becomes visible in the background of the Twitter page.