How to Market Your Brand by Joining Pinterest
How to Market Your Brand by Joining Pinterest
You can create a Pinterest account and market your brand much easier these days than you could when Pinterest first arrived on the scene. You no longer need to request an invitation from Pinterest or ask a friend with a Pinterest account to invite you. Just follow these steps to create an account: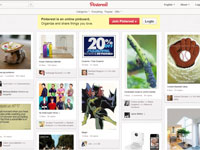 1

On the Pinterest home page, click the Join Pinterest button.

The Welcome to Pinterest page appears, and you see the options to sign up via Facebook, Twitter, or your e-mail address.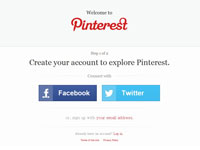 2

Click the Facebook button or the Twitter Button.

We suggest going with Facebook because you have the option to follow your friends from that network after you provide your profile details.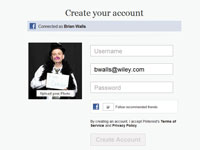 3

Enter your profile details, including your username, your e-mail address, and your password.

Your username becomes part of your profile's URL so consider whether you want to use your name or your company's name. Your profile's URL will look like http://pinterest.com/yourname.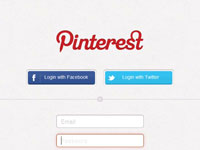 4

Click Create Account.

Congratulations, you're the newest Pinterest member!

After you get an account, the easiest way to log in is by using the same method you used to create the account. Click either icon to sign in via one of these social networks. You can also log in using your e-mail address. After you log in, you can get started.

You can choose to have your pins show up on Facebook. Many people who use Pinterest as a personal account enjoy sharing pins with their Facebook communities. However, it's different for a brand account. A brand's community doesn't want to receive as many updates and may become turned off if a brand's pins are showing up all day on their News Feeds.