Following People and Creating Your First Pinterest Pinboards
Following People and Creating Your First Pinterest Pinboards
After you've registered for Pinterest, your first steps are to follow some other Pinterest users and set up your first Pinterest pinboards. It's a fairly simple process, and when you're finished, you'll be following some Pinterest members, and you'll see pins in your stream.
Some of these options appear only during the registration process (such as the suggested followers), so be aware you won't be able to return to all of these steps.
After the initial registration, Pinterest moves you along through its setup. Here's what you do: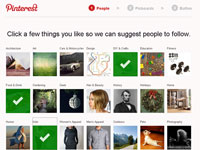 1

Indicate your interests by clicking the images for any that apply.

Although Pinterest tells you it's going to suggest a few members for you to follow, this statement is a little misleading. Pinterest automatically sets up your account to follow a few members who match your interests. (If you don't want to follow these members, you can unfollow them right away.)
2

Click the Follow People button at the bottom of the page (you may need to scroll down).

Pinterest is a social platform, and this is where you start being social.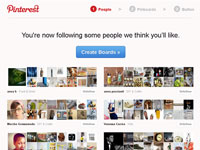 3

Review the members you're now following and make any necessary adjustments.

After you indicate your interests, Pinterest displays the list of members it has chosen for you to follow. Pinterest also automatically sets up your profile to follow those friends from either Twitter or Facebook who are already established on Pinterest. At this stage, you can click the Unfollow button to remove anyone you don't want to follow from this list.
4

Create your first pinboards by clicking the Create Boards button.

Think about what types of things you enjoy and what types of web pages you've shared in the past on other networks. These are the topics you'll want to create pinboards for first.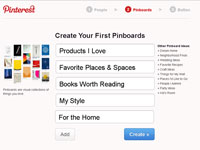 5

On the screen that appears, name your new pinboard (or rename what's already there) by using the appropriate text boxes.

Your profile and pins will be organized by these boards. Pinterest automatically suggests some boards for you to create. You can use those, or you can change the text in the boxes to boards you would like to create. To delete a suggested board, mouse over the right side of the box and click the x that appears in the bottom-right corner.

You don't need to agonize over boards when you're first starting on Pinterest. You can easily edit and create more boards later.
6

(Optional) Add the Pin It bookmark button.

Pinterest prompts you to do this now, but you don't have to. This step shows instructions for adding a Pin It button depending on your browser. In most browsers, you just drag the button on the screen up to your browser's top toolbar.