How to Upload Videos to Ning One at a Time
How to Upload Videos to Ning One at a Time
If you have a single video that you want to upload to your Ning network, the simple video uploader comes to the rescue.
1

Sign in to your social network.

Your profile page appears.
3

Click the Add Videos link at the top of the Videos page.

The bulk video uploader page appears.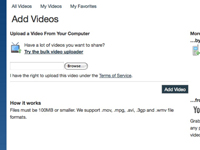 4

Click the link at the bottom of the bulk video uploader page.

The simple video uploader appears. The simple video uploader lets you upload videos one at a time.
5

In the uploader, browse to find the video you want to upload and select it.

With the simple uploader, you can pick out just one video.
6

When you add all the videos you want, click Upload.

The name of the video appears when Ning finishes the upload.