How to Moderate Comments on Your Ning Comments Wall
How to Moderate Comments on Your Ning Comments Wall
Anybody in your Ning network can leave you a message on your Comment Wall: People leaving messages don't have to be your friends. Ning provides you the means to control what appears and what doesn't on your Comment Wall:
1

Log in to your Ning account.

Your Ning profile page appears.
2

Click the Settings link at the top-right of your profile page.

The Settings page opens.
3

Click the Privacy link on the left.

The Privacy Settings page appears.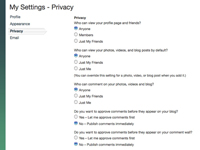 4

Select Yes for the option that asks "Do you want to approve comments before they appear on your comment wall?"

Now, you have to approve all comments before they're displayed. Every time a comment left is by a member, the right column of the My Settings – Privacy displays a notification indicating the number of comments to be approved.
6

If you approve the comment, click Approve.

Or you can reject it if you don't want it to appear on your Comment Wall by clicking Delete.