How to Join a Public Network on Ning
How to Join a Public Network on Ning
Ning public networks are visible to everyone, and anyone can become a member of one or several networks. Joining a public network on Ning is a snap:
1

Sign in to your Ning account.

Your main Ning page appears, which includes a list of recommended networks. These entries feature a Join link. You can also search for keywords or topics to find a network you want to join.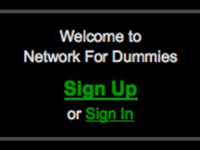 2

Click the Join link next to the entry for the network you want to join.

Public networks display a box in the top-right corner, giving visitors two options: Sign Up or Sign In.
4

Enter your e-mail address in the Email Address text box.

You need an e-mail address to sign up for (and, later, to sign into) networks on Ning.
5

In the Password and Retype Password text boxes, enter the password you want to use.

Obviously, type the same password in both boxes!
6

Select the month, day, and year you were born from the Birthday drop-down lists.

Your date of birth is required to confirm you're eligible to use Ning.
7

In the Type the Code on the Right text box, enter the funky-looking letters and numbers that appear next to it.

Ning wants to make sure you're not a machine, but a human . . . you are a human, right?
9

Enter the name you want to use in this network in the Name text box.

Although you can enter anything here, try to type in something that will identify you as uniquely as possible in the network.
10

Include a profile photo, if you want.

You can choose to leave the default photo the network has for new members. If you don't feel comfortable adding a photo showing your face, at least consider adding an image that distinguishes you.
11

Specify your gender and whether you want it to be common knowledge.

You can choose between Male and Female, and you can opt to not display your gender information by selecting the Don't Display check box.
12

Click the Country drop-down list and select your country of residence.

When you select any country besides the United States, a new text box opens, letting you enter your city and state/province. If you select the United States, you're prompted for your ZIP code.
13

Answer all the required questions for the particular network you want to join.

Signup questions that have an asterisk next to them are required. Questions that have a lock next to them are private and visible only to you and the network's Administrators.
14

Click the Join button at the bottom of the page.

Your profile page appears. At this point, you're officially a new member of the network.