How to Get More Ning Network Storage and Bandwidth
How to Get More Ning Network Storage and Bandwidth
By default, your Ning network lets you store 10GB of content and use up to 100GB of bandwidth. According to Ning, this is roughly equivalent to a network with approximately 5,000 photos or 500 videos. But if you need more room than that in your Ning network, you can pay for a premium service that obliges you:
1

Click the Manage link in your network's navigation bar.

The Manage page appears.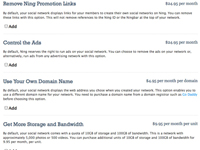 2

Click the Premium Services link under the Your Network header.

The Add Premium Services to Your Network Name page appears.
4

Enter the number of units that you need in the Get More Storage and Bandwidth section.

You can buy units of 10GB of storage and 100GB of bandwidth at $9.95 per unit.
5

Click the Go button at the bottom of the page.

Ning will prompt you for your credit card information in your browser window.
6

Fill out your credit card information.

Your credit card will be charged every 30 days (unless you cancel your premium services, after which you get an e-mail with a receipt.
7

Enter your password for confirmation purposes and click Go.

You'll see a confirmation screen.