How to Define Your Ning Network's Profile Questions
How to Define Your Ning Network's Profile Questions
After you create a network on Ning, you need to define the questions for your members to answer during their sign-up process. Thinking up these profile questions will probably take longer than adding them to the network.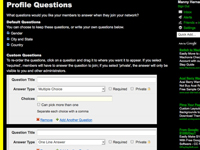 2

Click the Profile Questions icon in the Your Members section.

The Profile Questions page opens. By default, the Profile Questions page includes gender and location questions. You can leave these as they appear or remove them by clicking the Remove link.
3

(Optional) Click the Add Another Question link, if you want to add more questions.

You can add another question anywhere by clicking the Add Another Question link above the position where you want the new question to appear. You can also delete any questions by clicking the Remove link for the question.
4

For each of your questions, enter a Question Title in the text box.

The gender and location questions prepopulated by Ning can't have their titles changed.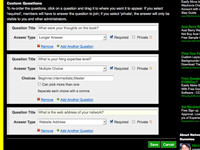 5

Select an option from the Answer Type drop-down list for each question.

You can select One Line Answer, Longer Answer, Multiple Choice, Date, and Website Address.

If you pick Multiple Choice as the Answer Type, the space below the drop-down list expands to make room for a new text box titled Choices.
6

Select the check boxes for features you want to apply to your network.

Selecting the Required check box makes the question mandatory for members. Selecting the Private check box makes the answer to the question visible only to the member, the Network Creator, and the Administrators on the member's profile page. and selecting the Add to Advanced Search check box makes the profile question available among the search criteria in the Advanced Search page for Members.
7

If you selected Multiple Choice for a question in Step 5, enter all the choices you want to make available to your members, separating choices with a comma.

For instance, if the two options you want to offer are "Slime and Snails" and "Sugar and Spice," enter Slime and Snails, Sugar and Spice.
8

If you want to allow your members to pick more than one choice in a Multiple Choice question, select the Can Pick More Than One check box.

If you don't have any multiple choice questions, you don't have to worry about this check box.
9

(Optional) Reorder questions by clicking any question and dragging it where you need it to appear.

You can rearrange the questions to your heart's content.
10

When you finish creating and arranging all your profile questions, click the Save button at the bottom of the page.

A Success! message appears, confirming that your changes have been successfully saved.