How to Control the Ads on Your Ning Network
How to Control the Ads on Your Ning Network
By default, your Ning network displays AdSense ads in the right column. If someone clicks an ad, any revenue generated goes to Ning. If you want to obtain revenue from running ads on your network or you prefer not to have any ads at all, you need to purchase the Control the Ads premium service:
1

Click the Manage link in your network's navigation bar.

The Manage page appears.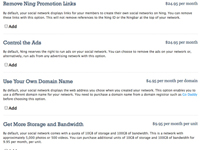 2

Click the Premium Services link under the Your Network header.

The Add Premium Services to Your Network Name page appears.
4

If you want to run your own AdSense ads (or ads from any advertising network), paste the HTML code from your advertising network into the text box in the panel.

If you simply want to remove the ads from your network, don't enter anything in the panel.
5

Click the Go button at the bottom of the page.

You'll be prompted to enter your payment information in the fields that appear.
6

Fill out your credit card information.

Your credit card will be charged every 30 days (unless you cancel your premium services, after which you get an e-mail with a receipt.
7

Enter your password for confirmation purposes and click Go.

A confirmation screen appears.