How to Add Notes to Your Ning Network
How to Add Notes to Your Ning Network
Notes is not included by default among the features that launch with your Ning network, so before you can add any notes, you need to make sure to add Notes as a feature to your Ning network:
1

Click the Manage link on your network's navigation bar.

The Manage page appears.
2

Click the Features icon below the Your Network header.

The Manage Features page opens.
3

Click the Notes feature in the Features list on the left and drag it where you want to include it on your network's main page.

When you add the Notes feature, Notes is a new option in your network's navigation bar.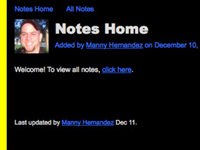 4

Click the Notes option on your network's navigation bar to add a note.

The page that opens is in itself a note, titled Notes Home by default.
5

To add a new note, click the Add a Note link at the top-right of the page.

A new note appears.
7

Edit the content of the note, either in Rich Text format or in Source format.

The Rich Text option lets you edit the note in a way that resembles how the note appears to those who view it after it's saved. The Source option allows you to control the HTML code of the content in the note.
8

Select the Preview option to preview your note before you save the changes.

The Preview option shows you exactly how your note will look when published, but it doesn't allow you to make any edits; you have to go back to the Rich Text option or the Source option to do that.
9

When you finish with any changes to a note, click the Save button (either the one above the content window or the one below it).

You're taken to the note's page, which reflects the changes you made.