How to Add New Posts to Your Ning Blog
How to Add New Posts to Your Ning Blog
Your Ning account comes with a blog — so get to blogging! You can easily add new posts to your Ning blog:
1

Log in to your social network.

Your profile page appears.
2

Click either the Blog Posts link below your photo (on your profile page) or the Blogs link in the network's navigation.

The Blogs page opens.
3

Click the Add a Blog Post link.

A page appears that lets you add the title and the body of the post.
4

(Optional) Add a title.

If you don't add a title, the first few words of your post becomes the title of the post.
5

Type your blog entry.

If you can't finish writing your blog post, you can click the Save as Draft button, which saves the current version of the post for you to later finish and publish.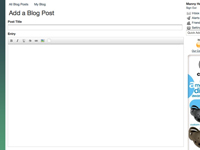 6

Format your blog entry, as desired.

To make life easier, at the top of the text box where you enter your post, you can find buttons to help you easily boldface, italicize, underline, and strikethrough words, as well as insert a link or an image or attach a file to your post.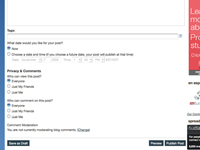 7

(Optional) Add keyword tags.

In this field, you can add tags to help describe the nature of your blog post and make it easier to find.
8

Select a publishing date and time.

You can just select Now if you want to keep it simple. Alternatively, select Choose a Date and Time, and then set the date and time.
9

Specify who can view the post and who can comment on the post.

Your options are Everyone, Just My Friends, or Just Me.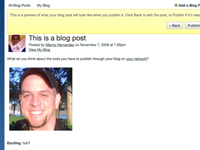 10

Click the Preview button to see how your post will look after you publish it.

If you don't like the look of your post, you can do some surgery.
11

Click the Back button and make any necessary corrections or additions.

Click the Preview button again to see your revised blog post.
12

If you like what you see, click the Publish button.

The post becomes visible to others based on the privacy settings you select.