How to Use the MySpace Music Player
How to Use the MySpace Music Player
The MySpace Music Player has been a feature of MySpace from the beginning. The MySpace Music Player gave musicians an outlet to the masses — offering an even playing field for any band that used it, no matter how obscure. Who needs radio play when you could (potentially, anyway) have millions of people listen to your song on MySpace?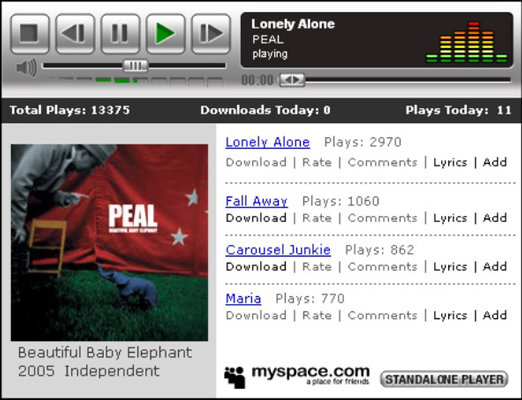 Though the bands and musicians love the MySpace Music Player, the fans on MySpace love it even more. A band's MySpace Music Player gives any potential fan an instant taste of what the musician has to offer. No downloads, no payment, and no hassles. Giving power to the people has never been so hip:
Instant access: You want to hear the music now? You got it. The MySpace Music Player gives anyone the opportunity to listen to that potential-next-breakthrough band instantly.

Interaction and feedback: The MySpace Music Player has a rating and comment system that lets you voice whatever opinion you want to, when you want to. The musicians also have the option of allowing song downloads through the MySpace Music Player.

Also, have you always wondered what that band was actually singing in that one song you can't seem to get out of your head? The MySpace Music Player has a Lyrics option, so wonder no more — it's all spelled out in black and white.

Easy to distribute: No longer do you have to send songs via e-mail or instant message. Just send your friends the band's MySpace URL.

Standalone Player option: If you just can't seem to get enough of that new band, but you can't hang out on MySpace at work all day (even if you want to), click the Standalone Player button that's on each MySpace Music Player. You then have your own personal jukebox full of your band's goodies that can float over even the harshest of Excel spreadsheets during your workday.

Ability to add songs to personal profile: You can potentially add any song that you can listen to on a musician's MySpace Music Player to your personal MySpace page. You can do this handy bit of magic by clicking the Add button below each song.