How to Set Up MySpace E-Mail Notifications
How to Set Up MySpace E-Mail Notifications
Because you had to get an e-mail account to use MySpace anyway, you may as well put that e-mail address to work! Set up MySpace to use the e-mail address you entered when creating your MySpace account to e-mail you whenever you receive new content on your MySpace blog:
1

Log in to your MySpace account.

Your profile's main page appears.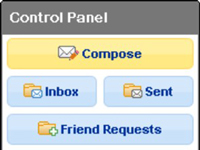 2

On the main page of your profile, click the Settings button in the Control Panel.

The Control Panel is on the left side of the screen under your picture.
3

In the Settings: Account window that opens, click the Notifications link.

The Settings: Notifications window opens.