How to Organize an Event by Using MySpace
How to Organize an Event by Using MySpace
MySpace makes it easy to organize events outside the digital realm, and your MySpace Address Book's already loaded with your friends on MySpace. You can create your own events and add events sent to you by others. These all go to one common calendar, which you can manage for yourself.
1

Sign in to your MySpace account.

Your main MySpace page appears.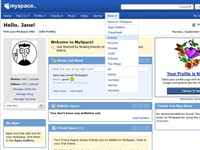 2

Click the Events link at the top of your MySpace profile page.

In the MySpace Events window that opens, you see the Events Links box in the upper-left corner of the screen. The Events Links box gives you four options: Event Invites, Events I've Posted, Events I'm Attending, and Create New Event.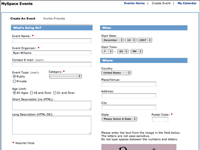 3

Click the Create New Event link to open the Create an Event screen.

This screen contains several fields you can use to describe your bash.
4

Enter a snappy and enticing title in the Event Name text box.

"Free Pizza!" is always a favorite.
5

Make sure your name and contact e-mail are correct.

If they're not, you can fix them here.
6

If you want only the friends you invite to see the invitation, click Private for the Event Type. If you want the world to know, leave it marked Public.

Just remember — even those folks who don't get specific invitations could run across the invitation and decide to make their way to your event. Because you made the event invitation public, this wouldn't be considered rude or party-crashing.
7

Select a category for your event from the Category drop-down list.

MySpace offers a blank category entry in case none of the entries apply, or you could always just go with Miscellaneous. Be as specific as possible, though. Details are always helpful.
8

In the Short Description text box, give your event . . . well, a short description.

Make this description just be a few words that give a general idea of what your event entails.
9

Get more long-winded in the Long Description text box.

You can also include pictures and links in this text box.
10

At the top-right side of the screen, use the drop-down lists to set the Start Date and Start Time for your event.

Check to make sure your AM/PM choice is set correctly. You'd hate to have folks arrive half a day early or late.
11

Fill in the location of the event in the fields under the Where section.

Give the location a name such as "My House" or "Joe's Place," and fill out the actual street address from there.
12

Enter the CAPTCHA in the text box.

This step assures MySpace that you're not spreading spam.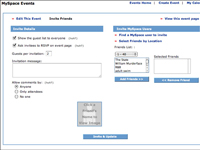 14

Select the options to show your guest list to everyone and to request RSVPs, if you want.

By default, these options are selected and enabled, so you have to turn them off if you don't want them.
15

Add some additional text in the Invitation Message text box, if you want.

This text is included as part of your invitation's message.
16

Under Allow Comments By, select a radio button.

You can select Anyone, Only Attendees, or No One.
17

To invite MySpace friends, select a name or names from the Invite MySpace Users section, and then click Add Friends to send an invite to that person (or those people).

If you click the wrong friend, click Remove Friend to take the name off your list.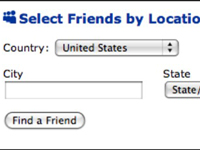 18

If you want, click the Select Friends by Location link to access the Select Friends by Location box.

After all, someone who lives out of state might not be able to drop by that night — and this approach saves you from having to search through all the out-of-state folks.
19

Enter the city and state or Zip code in the appropriate text boxes and click the Find a Friend button.

MySpace sorts out local folks from your Friend List for you.
20

Click the Invite & Update button when you have your invitation and guest list ready to go.

Your guests receive invitations, and the party can start!