How to Manage Your MySpace Comedy Profile
How to Manage Your MySpace Comedy Profile
When you're looking to edit your MySpace Comedy profile, MySpace obliges with many tabs in your comedy profile's Edit Profile page:
1

Log in to your MySpace comedy profile.

You comedy profile's home page appears.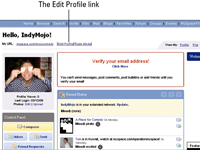 2

Click the Edit Profile link on your MySpace home page.

You get wafted away to the main Edit Profile page, where you can add, edit, and delete the things on your public profile.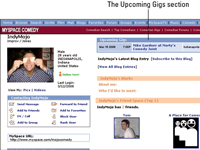 3

Enter all your upcoming gigs and events that you want all your fans to know about in the Upcoming Gigs tab.

Enter all the information that you can, such as Location, Cost, Date, Time, and Description. After you enter a new gig, it appears on your public profile for all to see.
4

Click the Career Details tab.

Use this tab to lay it all out there about your career and how it fits into your life.
5

In the Headline section, enter a good catchphrase.

This quote shows up right next to your profile picture on your public profile page.
6

In Bio, tell the world about yourself.

Tell your visitors a story — even show them a few pictures if you happen to have some.
7

If you have others who join you during your comedic escapades, list them in the Members section.

Give credit where credit is due!
8

In Influences, list who has influenced your comedy.

Tell the world who's to blame for making you the crazy, zany person you are today.
9

If you've done any television spots, give the details in the TV Appearances section.

Have you ever graced the world of mass media with your comedy?
10

If you've been in a movie, enter it in Film Appearances.

Many comedians dream about being seen on the big screen. Make them all jealous.
11

Add the title of the recording to Albums if you have your routine recorded.

If you have a CD waiting to be bought out there somewhere, let your fans know what it is.
12

Enter any Web addresses you want to direct your fans to in the Website section.

Let your fans know about that great sketch-comedy site you've started.
13

Click the Basic Info tab and change any of this information you want by clicking the Edit button at the bottom of the form.

Your Basic Info is, well, basic. This is where you can update your MySpace display name and location information.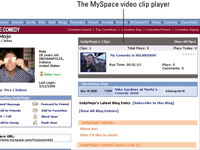 14

Click the Manage Clips tab and upload any video clips of your comedy stylings.

After you upload your first few clips, they appear on your profile in an easy-to-use MySpace video viewer.
15

Click the Listing Info tab and specify what your comedy is and where to find it.

Tell people another Web site that they can find you on, as well as what type of comedy styles you fall under.
16

Click the (second) Basic Info tab to enter more of your personal information.

This information isn't necessarily related to comedy. You get the options that are available on a normal personal MySpace profile.