How to Use MySpace Forums
How to Use MySpace Forums
MySpace's forums let you post your messages online and allows others to talk about them. By using MySpace forums, you can discover and discuss things important to you in a public place — without actually having to drive or fly or organize a big meeting (so it can also be a great way to save gas):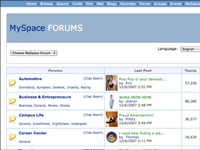 1

Access the forums on MySpace.

You can either click the Post Topic link on your Group page or click the Forum link at the top of your profile page.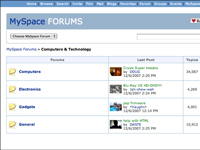 2

Click the link to a forum topic that interests you.

That forum's main page opens. For example, this figure shows the Computers & Technology forum.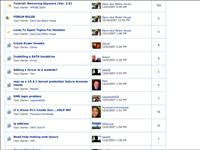 3

Select a folder within the forum.

Selecting the main Computers forum in Computers & Technology takes you to the screen shown in this figure, which displays the topics being discussed.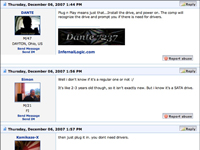 4

When you see an interesting discussion, click the topic's name.

That topic's page opens. From here, you can engage in a discussion with the poster or anybody else who's replied to the original topic.
5

If you want to post a reply to a message, click the Post a Reply link on the left side of the page or the Reply button in the message itself.

The Compose Message window appears.
6

Type your message in the text box and click Post Reply at the bottom of the page.

If you want to back out, click Cancel. Also, you can click the Quote link, which includes the original text you were replying to in your post.
7

If you want to start your own topic, click the Post Topic link on the forum's page and enter the title and text of your topic.

It's as simple as posting a reply, but you're the one starting the discussion.
8

Click Post to post your topic in the forum.

Get ready for a great discussion!