How to Start Your Own MySpace Group
How to Start Your Own MySpace Group
MySpace users can form groups that link people with common interests together, and you can join any of those groups you want. MySpace has literally hundreds of thousands of groups for you to look at and possibly join:
1

Log in to MySpace.

Your MySpace profile page appears.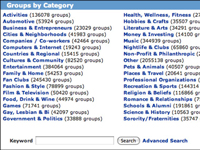 2

Click the Groups link at the top of your MySpace page.

A page displaying a list of links for the group types available on MySpace appears.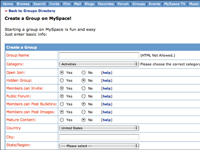 3

Click the Create Group link in the top-left corner of the screen.

The Create a Group on MySpace window appears.
4

Enter a descriptive name for your group in the Group Name text box.

You want the name to sum up the group you're starting in a few words.
5

Select a category from the Category drop-down list.

Although you may have several interests represented within the group, there should be a single category it best fits into.
6

Decide whether you want to let just anybody join by selecting Yes or No for the Open Join radio buttons.

Yes means the door is open — anybody wanting to join is automatically accepted. No means that you invite each and every member to the group.
7

If you want to hide the group from uninvited eyes, select the Yes radio button for Hidden Group.

Hiding your group works best if you just want to have a few friends in your group and not have your discussions made public. (It's great for conspiracy theorists or incurable gossips, but. . . .)
8

Specify what you want to let the members do while they're in your group by selecting the appropriate radio buttons.

You get to decide whether members can invite others in (otherwise, those decisions are all up to you), whether your forum is made public, whether members can post bulletins or images, and whether the material in your group is acceptable to show to those under 18.
9

Select your Country and State/Region from the drop-down lists, and enter your city or town in the City text box.

Although members don't have to be from the same geographical area, your location serves as the group's home base.
10

Enter a short description of your group in the Short Description text box.

This information is shown to anybody who happens to be looking at the public listing for the group.
11

Enter a more indepth explanation in the Long Description text box.

This information is reserved for those who are actually looking at the group's main page. Also, you can post pictures, links, and other HTML-related information only in the long description.
12

Enter the URL for your group in the text field.

It should follow this format: http://groups.myspace.com/(yourgroupnamehere).
13

Answer the security question.

You're asked to enter a series of letters or numbers at this point. The test is known as a CAPTCHA, and it helps keep out spammers and other automated nuisances that can ruin the MySpace experience.
14

Click the Create Group button.

Your new club is officially formed!