How to Manage Your Songs on MySpace
How to Manage Your Songs on MySpace
By using MySpace's Manage Songs tab in your music profile, you can allow those who come to your music page the ability to instantly listen to your songs through the MySpace Music Player. You can upload a few of your tunes to MySpace by following these steps.
1

Log in to your MySpace music profile.

Your main music profile page opens.
2

Click the Manage Songs tab.

The Manage Songs window opens.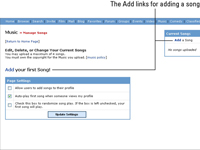 3

Click the Add link in the Manage Songs window.

You can click the Add link in the Add Your First Song text box, or you can click the Add a Song link in the Current Songs heading in the upper-right corner of the Manage Songs window.

The Edit Song Details window appears, where you can add all the information about the song you're about to upload.
4

Enter the Song Name, Album Name, Album Year, Record Label, and Lyrics in the appropriate text boxes.

If you're in a hurry, you can skip most of this stuff for now — the only required field that you must fill in is the Song Name.
5

Select the Allow Users to Rank This Song check box, if you want.

By selecting this option, your fellow MySpacers can not only listen to your songs, but they can also rank them on a scale from 1 to 10 and comment on the song. This gives your fans a chance to let you know exactly how they feel about your tunes.
6

If you want, select the Allow Users to Download This Song check box.

Most bands that are signed to a label don't use this option because they obviously want their listeners to buy their music. But, if your main goal is to just get your music out there for as many people to hear as possible, why not let your listeners download it?
8

Click the Browse button and locate the MP3 on your local hard drive.

A dialog box appears that you can use to find that file.
9

Select the MP3 you want and click the Upload button.

Your MP3 uploads to MySpace so that you can stream if from the Music Player on your MySpace music profile.

The Upload Song Photo window appears after your MP3's upload is completed.
10

Click the Browse button to select an image from your local hard drive.

Again, a helpful dialog box appears to aid in your image quest.
11

Select the image and click the Upload button to add it to your song.

The main Manage Songs window reappears. At this point, you can add another song, if you like.

Three options appear as check boxes on the main Manage Songs window under the Page Settings heading.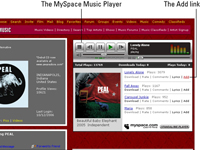 12

Select the Allow Users to Add Songs to Their Profile check box, if you want.

Any MySpacer has the option to add any song that's posted to MySpace to his or her personal profile — but only if the artist explicitly allows it by selecting this check box.
13

Select the Auto-Play First Song When Someone Views My Profile check box if you don't want to give your page visitor a choice.

If this option is selected, your MySpace Music Player begins to play your songs as soon as someone opens your music profile.
14

Select the Check This Box to Randomize Song Play box, if you want MySpace to change the order of songs that play each time a person views your page.

This option is basically the MySpace Music Player's version of a shuffle.
15

Click the Update Settings button.

A confirmation message appears.