How to Manage Your Films on MySpace
How to Manage Your Films on MySpace
In your MySpace filmmaker profile, you can upload your films and other videos. The Manage Films tab is where the movie magic (the organizational part of it, anyway) happens. Post your initial piece of motion-picture art (or that intriguing clip that showcases your potential) to your profile:
1

Log in to your MySpace filmmaker profile.

Your profile's main page opens.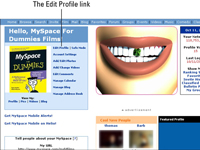 2

Click the Edit Profile link.

The Edit Profile page opens, with the default Film Maker Details tab open.
4

Fill out the Title, Description, and other relevant fields.

Enter any and all the film information you can. Always fill in a title that's short and to the point, a description that goes into a little more detail, and some info that allows others to find your film.
5

Choose your film's genre and category.

Choose up to three categories that your film falls under. These selections make your film easier to find after it's uploaded to MySpace — your audience awaits!
6

Choose your film's language and visibility, and then agree to the MySpace video policy.

Visibility refers to whether you want the video to be public or private.
7

Click the Continue button.

The video-upload form opens.
8

Click the Browse button and find your video file on your computer's local hard drive by using the dialog box that appears.

If you know where you've saved the file on your hard drive, this search shouldn't take long.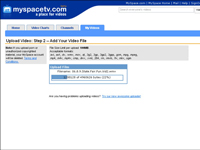 9

Select the video file you want and click the Upload button.

Depending on your Internet connection and the size of your video file, the time that it takes to upload your file will vary. While you're uploading your file, there's a status bar that displays the progress.

After your video file uploads, your My Uploads window appears, where you can view all the video files that you've uploaded to MySpace.