How to Join a MySpace Group
How to Join a MySpace Group
MySpace users can form groups that link people with common interests together, and you can join any of those groups you want. MySpace has literally hundreds of thousands of groups for you to look at and possibly join:
1

Log in to MySpace.

Your MySpace profile page appears.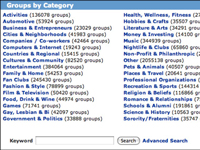 2

Click the Groups link at the top of your MySpace page.

Take a look at all the groups available on MySpace.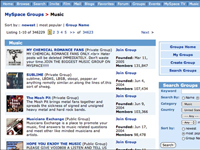 3

Either click a link for the type of group you're looking for, or enter a keyword in the Keyword text box and click Search.

For example, if you click the Music link, a screen with music-related groups appears.
4

Sort through these groups by clicking the number of the page you want to move to at the top of the list or by clicking Next to get to the next page in line.

You can also sort groups by newest formed or alphabetically, by clicking Newest or Group Name, respectively.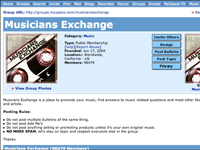 5

Click the Join Group link next to a group that you're interested in and click Join to confirm that you do want to join this group.

You're admitted as a member and taken to the group's main page.
6

To look at profiles for all those who are part of your group, click View All Members.

Contact them, chat, communicate — it's what MySpace is all about!
7

To see what group members are saying to everyone, click the View All Group Bulletins link.

The messages that the group members have sent to everyone on the membership list appear.
8

If you want to send your own bulletin, click the Post Group Bulletin link, enter the Subject and Body in the appropriate fields, and click Post.

You can also add a video if you wish.

You're all in a group because you have common interests. It's better to keep group bulletins related to the reason the group exists. You don't want to annoy your new friends with messages they're not interested in.