How to Install WordPress.com Plugins by Using the Plugins Feature
How to Install WordPress.com Plugins by Using the Plugins Feature
You can install a plugin in your WordPress.com blog by using the built-in Plugins feature. The auto-installation of plugins from within your WordPress administration panel only works for plugins that are included in the official WordPress Plugin Directory.
2

Click the Add New link in the Plugins menu.

The Install Plugins page opens, where you can browse the official WordPress Plugins Directory from your WordPress Administration panel.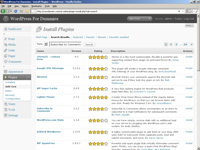 3

Select a plugin to install on your blog.

If you want to search for plugins that allow you to add additional features for comments on your site, select Term in the Search drop-down list, and then enter the word Comments in the Search text box on the Install Plugins page. Click the Search button and a list of plugins returns that deal specifically with comments.

If you want to search by author or tag, Select Author or Tag in the Search drop-down list, and then enter the author or tag name in the Search box and click the Search button.
4

Click the Install link in the Actions column of the plugin listing.

A Plugin Information window opens, giving you information about the plugin, including a description of the plugin, version number, author name, and an Install Now button.
5

Click the Install Now button.

The Install Plugins page in your WordPress Administration panel opens, where you find a confirmation message that the plugin has been downloaded, unpacked, and successfully installed.
6

Specify whether to install the plugin or proceed to the Plugins page.

Click either the Activate Plugin link or the Return to Plugins Page link.