Posting to Google+ from a Mobile Device
Posting to Google+ from a Mobile Device
More and more people are accessing the Internet from smartphones and tablets. Google knows this and has built Google+ apps to give you access to everything in Google+. To download the Google+ mobile app, visit http://www.google.com/mobile/+/.
After you download and install the app, here are some basic steps to begin posting from your mobile device: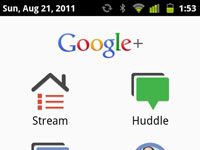 1

Open the Google+ app in the list of apps on your phone or surf with your phone's browser to http://plus.google.com.

If you have the Android or iOS version of the app, you'll be greeted with a splash screen, where you can choose what to do.
2

On the splash screen, tap the Stream icon to begin viewing your stream and posting.

The "All circles" screen appears.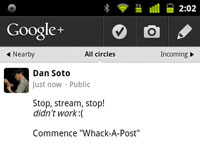 3

To begin posting to your stream, tap the pencil icon on your device.

A text entry screen appears, letting you "share your thoughts."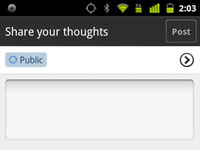 4

Type your status update and add your location if you want to.

Tap in the text box and type out your message.
5

Choose the circles you want to post to (it defaults to Public).

Tap the right-pointing arrow above the text box to see your list of circles and select who should be allowed to see your update.
6

(Optional) Add a photo.

You can either upload a photo you've already taken (tap the icon with the photo in it) or take a new one that goes straight to Google+ (tap the camera icon). At the time of writing, you can upload photos from the Android and iOS apps but not from the mobile web experience.
7

Tap Post.

Your post goes live immediately.