Increase Audience Reach by Highlighting Your Blog Posts
Increase Audience Reach by Highlighting Your Blog Posts
Showing readers popular or relevant blog posts aids the reader in finding out more about your blog's content in a way that's fluid and natural rather than disruptive. Highlighting important posts helps you increase the reach of your blog's audience.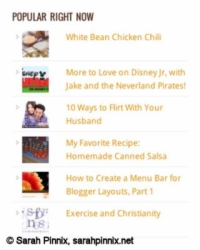 1

Highlight popular posts in your blog's design

If a new reader stumbles onto your blog, two things might happen that could make a popular posts section beneficial: a visitor may love the first blog they read and want more, or they may be underwhelmed by a post and wonder if it represents your best.

Either way, including popular posts as part of your navigation design could be the difference between someone subscribing to your blog or just walking away (figuratively, of course). One way to add a popular posts list to your sidebar is on WordPress through a plug-in or on Blogger by using a widget.

On WordPress, two options include Popular Posts plug-in and nRelate Most Popular plug-in. These plug-ins give you a lot of customization options such as how many posts to display, how far back in time to go, and which categories to exclude — which will also force you to improve the categorization of your posts.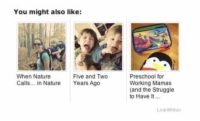 2

Highlight related posts in your blog's design

In effective navigation design, one goal is to keep readers engaged with your content. If visitors like the blog post they're currently reading, they may want to read more about that particular topic. Using a plug-in or widget like LinkWithin or nRelate Related Content automatically pulls up posts similar to the one a visitor is currently reading. Both LinkWithin and nRelate Related Content are available for WordPress and Blogger.

3

Link to other pages in your blog's design

One simple navigation design trick is to make your blog's content easy to find through interlinking, which simply means linking to older posts or pages from within another page or post. Interlinking gives readers more relevant content to read, all from within the blog post or page they're currently reading.

When you link to another post, you should use specific words for your anchor text (rather than simply "click here") that make it clear to the reader that the link navigates them to a place relevant to their interest. Also, using specific text as your anchor text helps with your search engine optimization (SEO) — that is, if you use proper anchor text.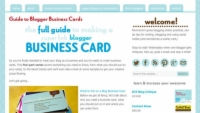 4

Build a sneeze page

Building a sneeze page is another great way to propel readers into your content through great navigation. The term sneeze page refers to a page that directs readers to multiple posts within your blog. These pages take many forms, such as a page that highlights popular posts, posts around a specific topic, or posts that were part of a series.

To build a sneeze page, create a new page in your blog platform and pull together the links you need to use on the page. Then use color, formatting, and images to help readers navigate deeper into your blog.