Improve Your Blog's Title and Tagline Design for SEO
Improve Your Blog's Title and Tagline Design for SEO
Your blog's title tag and tagline give search engines a description of your blog's contents. Effective SEO blog design means ensuring search engine-worthy blog posts and pages have their own title tags and that each page's tagline is full of relevant keywords.

1

Where does a blog page's title tag appear?

Technically, a page's title tag is an actual HTML tag that tells your browser what text to display in its active title bar or in one of its tabs. When someone lands on your blog, a visitor sees the contents of the title tag in the browser's title bar as well as one of its tabs. Blogging platforms automatically make a blog post or page's title its title tag.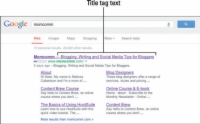 2

Consider how your blog's title tag appears in search results.

Good navigation within your blog design means fine-tuning areas that may at first look like small details, like title tags. Here's an example of where the contents of a title tag show up in search results. Notice how Google breaks down the blog's departments into subheadings, using the title tags for each of those departments' landing pages.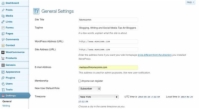 3

Edit your blog's title tag to improve its SEO.

Unless you edit your own code by hand, the location in the software for adding your blog's title tag varies by platform. In WordPress, you can find the field under Settings→General→Site Title. Notice here that there's no section called "title tag." In WordPress, the Tagline field represents the contents of the title tag.
4

Edit your blog's taglines as well.

The tagline is a short description of your blog's contents. A tagline is also used by search engines to help people find your content. A tagline may or may not appear on the blog page, depending on the theme you use for your blog's design.

The tagline on your blog's Home page is a description of your blog's general contents. The tagline on other blog pages is a description of the contents of that blog page (blog post). By default, many WordPress themes fill in the Tagline field with something generic like "Just Another WordPress Blog." You certainly won't want to keep that.

Trying to write a tagline can be tricky because you have to squeeze everything about your blog into a short statement. If your tagline is cute or clever but doesn't include relevant keywords, it won't help much with SEO. So use a short phrase of 70 words or less, with the most important keywords closer to the beginning.