How to Set Up FeedBurner
Using a service such as FeedBurner allows you to track all readers of your mom blog, whether they come to your site or read it in a feed reader. Your blog's feed statistics are just as important as your traffic statistics. Your RSS readers may not visit your site in order to read your blog posts, because they will be reading them in a feed reader.
1

Sign in to FeedBurner with your Google account.

You can sign up for a Google account for free if you don't already have one.
2

On the My Feeds page, type your blog URL into the Burn a Feed Right this Instant text box and click the Next button.

Some blogs will generate two or more different kinds of feeds, Atom and RSS.
3

Choose the feed and click the Next button.

It doesn't matter which one you choose to use here. Leave it at the default selection.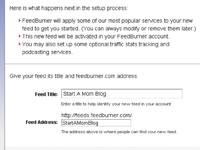 4

Check to make sure that FeedBurner created the account with your accurate blog name.

Your blog name and description can be changed later if necessary. But it's very important to also make sure you approve of the feed URL that it generates for you. This can't be changed later, so make sure it's one you want to keep for the life of your blog. If you want to change it, type your changes into the Feed Address text box and click the Next button.

FeedBurner only distributes unique URLs, so if you try to take a feed address that is taken, you'll get an error that says "The feed was cancelled and not activated." Just type a different address into the Feed Address text field and click the Next button again until you find an address that is available.