How to RSVP to a Password-Protected Event on Eventbrite
How to RSVP to a Password-Protected Event on Eventbrite
You just received an email invitation to a family reunion through some service called Eventbrite. Now, what do you do? Your invitation contains an Attend Event button and the information that
Your event password is: password
This event is password-protected. Register with the password above to attend this event.
Of course, your family reunion would be password protected! Can you imagine if a Hatfield showed up at a McCoy family reunion; chaos would ensue.
Here's how you can RSVP to that important reunion:

1

Click the Attend Event button.

Source: Eventbrite.com

You are taken immediately to the event's ticket page. In this case, the Dobbs Family Reunion page. For a brief moment, you will see the URL for the Eventbrite page. If the link doesn't work, you can copy and paste the URL into your browser.

You can see that the tickets are free. Eventbrite offers free event planning and management services for events that don't charge for tickets.
2

Select the number of tickets you would like (number of people for whom you are reserving a space).

You also have the options of saving the event and adding it to your calendar. If you click the Save This Event banner, a pop-up dialog box lets you know that you can log in or sign up for Eventbrite to save the event to your Eventbrite account.

If you don't have an Eventbrite account, are looking for something fun to do this weekend, or think you'll be planning your own event soon, go ahead and sign up.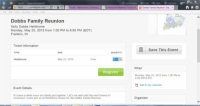 3

Click the Register button.

Source: Eventbrite.com

After you click the Register button, you have eight minutes to fill in the information fields, which are asking for your last name in this case (it's possible that the organizer already has supplied that information) and a confirming email address.