How to Put an Ad HTML in a WordPress Widget
How to Put an Ad HTML in a WordPress Widget
The basic process of placing an advertisement in your blog is to copy your ad HTML and paste it into your template. Your ad HTML is generally provided by your advertisers, so the addition is an easy process. The following sections show the easiest ways to place advertisements in Blogger and WordPress.
To place an ad in your WordPress blog, you add the HTML to your WordPress widget as follows:
1

Create a new text widget by selecting Appearance→Widgets from your WordPress Dashboard.

You can similarly add advertising to WordPress blogs in widgets, which are similar to gadgets, plus have more sophisticated advertising management tools available to you via WordPress plugins.
2

Drag the Text Widget over onto your sidebar to activate it.

WordPress widgets can be used anywhere in your template, not just in your sidebar. They are particularly useful in your header, where you can have easy access to the most prominent part of your template design.
3

Enter your ad HTML or JavaScript code.

When the widget opens automatically, paste your ad's HTML code in the text area below the title. If you want to add a title such as "Our Sponsors," you can do that, too.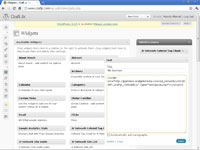 4

Click the Save button, and then click Close.

Adding an advertisement to a WordPress blog in a text widget.
5

Click and drag the widget to move the ad widget to where you want the ad to appear.

No further saving is necessary.