Design a Photo Collage for Your Blog with PicMonkey
Design a Photo Collage for Your Blog with PicMonkey
On a blog, a photo collage allows you to present more images in a smaller space than they'd take up if you inserted the photos one after another in a blog post. Photo collages can also make looking at multiple images more enticing, whether they're in your blog post or elsewhere in your blog's design.
1

Start a new photo collage.

Visit PicMonkey's website and click the text that reads Create Collage (at the top of the window).
2

Select Upload Photos to choose your photos.

Select the images that you want to use in your collage. Select multiple images at once by holding down Shift if they're grouped together. If they aren't grouped together, simply hold down the Ctrl key on a PC or the Command key on a Mac while you click to select individual files.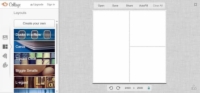 3

Select a collage layout by clicking the Layouts tab.

You have many types of options here with fun names, such as Biggie Smalls and L-egant. Move your cursor over one of the options, and a sample of the layout appears. Clicking a selection shows you a number of options for that type of layout.
4

Select your template and adjust the collage dimensions to a size that fits within your blog post.

You can find the dimension directly underneath the collage area. Be sure to input the number as pixels.
5

Add one of your images to the collage by simply dragging the image from the Images tab into a frame within the template and dropping it in.

After you place the image, you can move the image around within that frame. You just can't zoom into the image at all to create a tighter crop.

If you want PicMonkey to take a stab at laying out your collage, select the Autofill feature, sit back, and let the monkey do the work. You may just save yourself some time!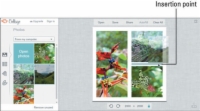 6

(Optional) If you fill in all the frames with images and decide you want to add another image, drag that image to a place of white space where you'd like the photo to be placed — but not on top of an existing image.

When you do this, two lines appear to denote the image will be placed in that spot. Release the mouse to let go of the image, and it drops into the collage and resizes all the other images to make room.