Create a Vector Graphic for Your Blog's Design
Create a Vector Graphic for Your Blog's Design
Use Inkscape to create simple vector graphics to enhance the design of your blog. You might create an icon to highlight a special section on your blog or to create a social media button by placing a social media logo on top of that cloud within the illustration.
1

Browse to Inkscape and create a new icon by choosing File→New→icon_64x64.

A new blank canvas appears.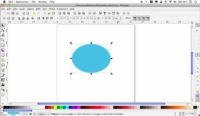 2

On the toolbar, select the Circle tool and draw an ellipse shape.

This ellipse shape forms the basis for a cloud shape.
3

Adjust the color and stroke to suit your preference.

To adjust the color: Go to Object→Fill and Stroke. You can change the color in a variety of ways, from changing RGB values to selecting a color in a color wheel.

To adjust the stroke color: Click the Stroke Paint tab. Adjust the stroke (outlines a shape) color to your liking.
4

Create new ellipses of different sizes and arrange them to form a cloud shape.

Keep all ellipses the same color with the same stroke color. After you create the shape of your cloud, you merge all the shapes so the stroke is visible only on the outside of the cloud shape.
5

Go to Edit→Select All.

This selects all the ellipses at once.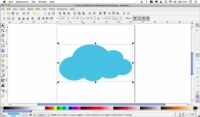 6

Go to Path→Union.

Union combines the separate ellipses into one single image. Here, you can see how the shapes merge into a simple cloud shape.
7

Save illustration by choosing File→Save.

To convert the icon to a format suitable for web use, choose File→Export Bitmap. This saves the image as a PNG image, which will prevent the image from having a white box around the cloud.

For more about creating vector artwork in Inkscape, try The Inkscape Tutorials Weblog or Creative Nerds' blog post featuring links to 50 tutorials. If you're looking to get into using Adobe Illustrator, try VectorTuts+. You can even find a few Inkscape tutorials there, too.