Build an XML Sitemap and Improve Your Blog's SEO Design
Build an XML Sitemap and Improve Your Blog's SEO Design
Search engine optimization (SEO) is about increasing your blog's visibility in search engines such as Google. Improve your WordPress blog's SEO through smart design choices. For example, suppose you write a post about planning a superhero birthday party. You'd like for that post to appear in search results whenever someone types "superhero birthday party" into a query. You can do that by applying search engine optimization (SEO) to your blog's design.
Websites often have two types of sitemaps: one mainly for search engines, and one mainly for blog visitors. Unlike the ordinary textual map, an XML sitemap is a directory of pages that you want search engines to find, so they can learn about your entire blog. One of the easiest ways to generate an XML sitemap is through a WordPress.org plug-in, which does most of the work for you.
There are no guarantees that SEO techniques will make your topics rise to the top of queries every time. But doing some basic techniques will improve their chances. The better you optimize your blog, the easier it is to bring people to your site. SEO is about optimizing the structure of your site to make it easier for search engines to index you, and readers to find you.
1

Install the Google XML Sitemaps plug-in, then go to Settings→XML-Dashboard.

Leave the options selected as they are.
2

Click the Click Here to Build It for the First Time link.

This assumes you truly are building your XML sitemap for the first time.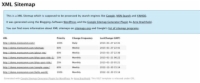 3

Click the Sitemap link to see your finished sitemap.

The sitemap should be formatted similarly to the example here. As you can see, an XML sitemap may be search engine–friendly, but it's not user-friendly.

For your blog visitors to navigate, you'll want to create an HTML sitemap or an archives page instead. Most bloggers publish archive pages rather than HTML sitemaps.