5 Ways to Improve Your Blog's Sidebar Design
5 Ways to Improve Your Blog's Sidebar Design
A blog's sidebar is important real estate that can help sell your brand. Choose carefully what to include in your blog's sidebar (and what not to include), and set your blog apart from others by highlighting what makes your blog the best.

1

Feature social media activity widgets in your blog's sidebar design

Widgets are little applications that can be installed and executed within a website, and they can be used to highlight your activity on social media platforms. They add a design element to your sidebar while showing readers a glimpse of your wider online presence.

The great thing about social media widgets is that they can be used for any blogging platform. All it takes is selecting a few settings and then copying and pasting code into your blog
2

Include relevant buttons or badges in your blog's sidebar design

A blog button — badge — is a graphic that typically links to another site. A conference badge tells your readers that you're attending an upcoming conference. Another blogger's badge can highlight that you're a fan of that blog. An awards badge can build credibility to showcase an award you won.

Choose only those buttons and badges that are relevant to your blog. Otherwise, you run the risk of cluttering up your sidebar design. Whichever badges you decide to display, keep them up to date.
3

Incorporate advertising in your blog's sidebar

For bloggers looking to earn an income from their blog, advertising typically gets woven into the sidebar (and elsewhere on the site, too). Ads often earn you more money when placed toward the top of your sidebar, so many bloggers place one larger ad at the top and then place smaller ads further down in the sidebar.

Other bloggers save the top of their sidebar for other elements, displaying ads only lower in the sidebar and elsewhere on their blog. However, you decide to incorporate advertising, make sure your overall sidebar layout doesn't get overtaken by them.
4

Showcase categories and archives in your blog's sidebar

Your sidebar design should showcase your blog content by offering important options (categories and archives, as well as tags, popular posts, and most recent posts) within this compact space. You can offer these elements in various ways, include drop-down menus that when clicked, "drop down" (open) into a list for someone to make a selection. It's best to display archives on a drop-down menu or on a separate blog page.

Lists show your categories or archives going vertically down a sidebar. If you don't have a lot of categories, using a list might be a good choice. You can also use images to liven up your sidebar and draw attention to your categories.

Most blog platforms offer the ability to showcase your blog's tags into a visual cloud that displays words you used to tag your posts. The more frequently used the word, the larger it appears in the cloud.

If you are consistent about the tags you use, using a tag cloud is an option. However, it's often easier for the reader to make a selection through a list than a cloud of randomly placed words.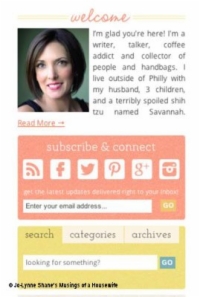 5

Save space with a tabbed element in your blog's sidebar design

A tabbed sidebar widget is an element for your blog's sidebar design that contains content separated by tabs. The blog Musings of a Housewife uses a tabbed sidebar widget to combine three elements — a search box, categories, and archives.

A tabbed sidebar widget has two advantages: It saves space in the overall sidebar design and groups ways to discover content all in one area for easy accessibility.

You can create this design element easily with a plug-in on WordPress such as Tabber Widget (free), Easy Tab Widget ($9), and Hello Tabs WordPress Widget ($12). Some themes include the functionality to create a tabbed widget as well.