4 Must-Have Elements to Include in Your Blog's Sidebar Design
4 Must-Have Elements to Include in Your Blog's Sidebar Design
Your blog's sidebar is important real estate that should include the elements you want to feature most. When designing your blog's sidebar, you can pull from an almost endless list of sidebar elements. By choosing carefully what to include (and what not to include), you can set your blog apart from others.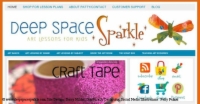 1

Include social profiles in your blog's sidebar design

As a blogger, you want to connect with your readers not only on your blog, but also in places they already hang out —Twitter, Facebook, and Pinterest just to name a few. If there is one element you should have in your blog design, it's a group of social media buttons that link to your profiles.

Most readers won't search you out on each separate platform, so having icons that link to your profiles makes it easy for them to connect with you.

The best place for your social media profile icons is toward the top of your sidebar or within your blog header.

Search for "social media icons" on any search engine. You can also create your own icons to perfectly match your design, like those shown here, from Deep Space Sparkle.

Include only those buttons for social media platforms that you actually use regularly. Re-evaluate your buttons from time to time to ensure you stay relevant.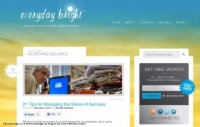 2

Provide ways to subscribe in your blog's sidebar design

Offering your readers a way to subscribe to your blog can turn a casual blog visitor into a regular reader. To get a blog reader to take action and actually subscribe, make your subscription area obvious and easy to use.

The subscription area on Everyday Bright uses a dark gray and blue to stand out against the rest of the blog. In addition, this section establishes a hierarchy, highlighting e-mail subscription as the most important and the smaller icons below as other ways to follow the blog.

Bloggers may offer two ways to subscribe to a blog: via e-mail or through an RSS feed. Subscribing through e-mail delivers the latest blog posts straight to someone's inbox. Blog readers who subscribe via RSS feed typically read your blog through an RSS reader, such as Feedly.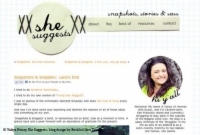 3

Share a brief biography in your blog's sidebar design

Welcome visitors to your blog by providing a short intro about you and your blog. From a blog design perspective, this overview actually connects the personality of your design to an actual person (with a personality). Also, including a picture of yourself can give your readers a visual connection to the face behind the blog.

Save most of your blog's greatness for your About page. In a sidebar blurb, try including a sentence about you, your name (real, nickname, or pen name), and a sentence about what your blog offers to your readers.

When creating this introduction, ask yourself, What's In It For Me? (WIIFM). Your sidebar is a key place in your blog design to entice readers to stick around, so tell them how they will benefit from reading your blog. Will they be inspired? Will they learn? What do you offer your readers? Why should they come back?
4

Highlight credibility in your blog's sidebar design

Highlight places that have shouted your praises by including their logos in your sidebar layout. They catch a reader's attention because the publications or websites are often a well-recognized logo. Plus, they help build your credibility as a blogger who really knows your stuff.

The same idea also goes for highlighting awards you've received as a blogger by including awards buttons. If you were nominated to a top blogger list for your niche or won a blog-related award, flaunt it. You deserve it!

Avoid those awards where you receive an award but have to post about it and nominate other bloggers. Those aren't true awards but are more like chain-letters. Skip highlighting those altogether.