Sony Alpha SLT-A35/A55 For Dummies Cheat Sheet
Sony Alpha SLT-A35/A55 For Dummies Cheat Sheet
Taking photographs with a Sony Alpha A35/A55 means choosing shooting modes and adjusting exposure and aperture settings. Location and lighting determine your scene choices: Night View, Portrait, or Sports Action are options. Identifying your A35's or A55's dials and buttons helps you quickly play back photos for review.
Finding Buttons, Dials, and Controls on Your Sony Alpha A35/A55
Where are the buttons — like Preview and flash — on your A35 or A55? The playback and exposure buttons aren't explicitly labeled, and the USB port control dial isn't easy to find. Know where dials, controls, and ports are so you can focus on taking better photographs.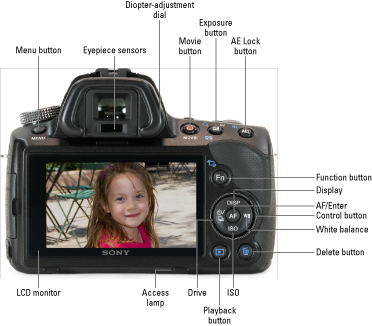 Choosing Sony Alpha A35/A55 Shooting Modes
What shooting mode should you use? Your Sony Alpha A35/A55 has modes you can choose based on how the photo should look, the situation, and your photographic experience level. Are you taking action shots of a sports game? Are you taking portraits for the holiday card?
Basic shooting modes: Auto, Auto+, Flash Off, Continuous Advance Priority, Sweep Shooting, and Scene Selection

Advanced exposure modes: Program Auto, Aperture Priority, Shutter speed priority, or Manual exposure
Basic and Advanced Shooting Modes

Name
Description
Auto
Automatic mode. Your camera makes most decisions. Use when
you're getting to know about your camera and photography, or when
you want to relax and have fun.
Auto+
Auto, plus recognizes some shooting conditions.
Flash Off
Auto, but with flash disabled.
Tele-zoom Continuous Advance Priority AE (A35) or Continuous
Advance Priority AE (A55)
Fastest frame rate. The A35 captures the center of the frame.
The A55 captures the full scene.
Sweep Shooting
Create panoramas.
Scene Selection/Picture Effect (A35) or Scene Selection
(A55)
Windows to specific scenes and effects.
P (Program Auto)
Automatic exposure, but you control creative settings.
A (Aperture priority)
You set aperture; the camera sets the rest for proper exposure.
Good for portraits, landscapes, and close-ups.
S (Shutter speed priority)
Aperture priority but instead, you set shutter speed. Good for
action (yours and your subject's).
M (Manual exposure)
You make all exposure and function decisions.
Choosing Sony Alpha A35/A55 Scenes
In Scene Selection mode on your Sony Alpha A35/A55, choose a scene per the kind of photo you're taking: portraits, action, and nighttime shots benefit from different Scene Selection modes; and macros and panoramas are two ends of the shooting spectrum in Scene Selection.
Scene Selections


| Name | Description |
| --- | --- |
| Portrait | Creates a pleasing photo with a blurred background. |
| Sports Action | Tries to take a sharp photograph of moving objects. |
| Macro | Designed to take close-ups. |
| Landscape | Takes sharp photos so things at a distance are in focus. |
| Sunset | Shoots good photos of the bright sunset. |
| Night View | Keeps city lights bright but the night sky dark. |
| Hand-held Twilight | Enables you to take hand-held photos at night. |
| Night Portrait | Takes photos of people at night. |


Choosing Effects with the Sony Alpha A35
The Alpha 35 has a number of interesting effects organized into a Picture Effect mode, which is located with Scene Selection on the Mode dial. Each effect is unique and gives you ways to make your images and videos pop.
Name
Effect
Posterization (Color)
In graphic terms, posterization creates abrupt changes in tone
with no or very little gradient using a limited color palette. This
particular effect creates a wildly posterized photo and replaces
the normal color palette with primary colors. These photos look
like something out of a graphic novel.
Posterization (B/W)
This effect creates an effect similar to Posterization (Color)
but in black and white. Photos taken with this effect look like pen
and ink drawings.
Pop Color
This effect adds zing to colors.
Retro Photo
This option reduces contrast color, creating a photo that looks
aged, complete with subtle sepia tones.
Partial Color (Red)
This special effect is fantastic for singling out and showing
reds while converting everything else to black and white.
Partial Color (Green)
Likewise, this effect filters out everything but greens.
Partial Color (Blue)
This effect shows blues and converts everything else to black
and white.
Partial Color (Yellow)
This one keeps yellows. The challenge with partial color is
finding the right scene with the right colors to show off the
contrast between the selected color and the rest of the black and
white photo.
High-Key
High-key photos are bright, happy, and softer than normal
photos.
High Contrast Monochrome
This effect creates a black and white photo that has more
contrast than normal.
Toy Camera
This effect simulates what the photo would look like if you
took it with a really cheap camera. The colors are bright but the
corners are shaded (vignetted).