General Cameras
Whether you're looking to use Focus Lock on your camera or you want to understand the different kinds of batteries used in photography equipment, you'll find the answers you seek in our archive of photography articles from the experts at Dummies.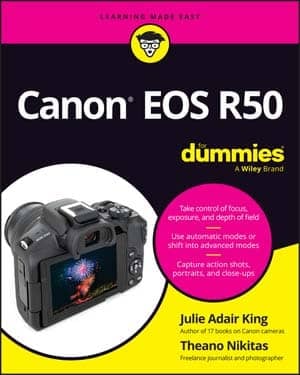 General Cameras
Canon EOS R50 For Dummies
Move on from phone snapshots and start making amazing images Canon EOS R50 For Dummies helps you create superior photo and video content, with step-by-step instructions for how to make the most of this advanced, interchangeable-lens digital camera. You'll walk through the controls, interface, and accessories of the Canon EOS R50, and you'll learn the basics of image-making, so you can take impressive shots, even if you've never taken a photography class. Let this Dummies guide be your teacher as you learn to take great action shots, stunning portraits, detailed closeups, low-light photos, and professional-looking video. Learn your way around the Canon EOS R50 and its settings and controls Get familiar with common photography terms and basic techniques Start shooting right away with user-friendly instructions on using automatic modes Go manual to adjust focus, color, sharpness, and more to get the look you're afterPhotography hobbyists and content creators will love Canon EOS R50 For Dummies, the quick-start guide to the camera built for those looking for superior photo and video results.
Explore Book
Buy On Amazon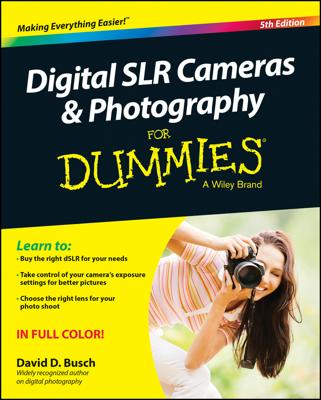 General Cameras
Digital SLR Cameras & Photography For Dummies
The perennial DSLR bestseller—now expanded with more photography tips Digital SLR Cameras & Photography For Dummies has remained the top-selling book on DSLR photography since the first edition was published. Now in its Fifth Edition, itcovers the latest technologies in the world of DSLR cameras and photography to help you master the techniques that will take your digital photography skills to the next level. Written in plain English and complemented with full-color photos, this hands-on, friendly guide covers the mechanics of the camera; exposure, lenses, and composition; how to capture action, portrait, and low-light shots; editing and sharing images; tips for improving your digital photography skills; and much more. Digital SLR cameras offer the mechanisms and flexibility of traditional pro-level cameras with the instant results and output of digital cameras. If you're a proud owner of a DSLR camera and want to take stunning shots that were once only achievable by the pros, this is the guide you need. Written by one of the most recognized authors in digital photography, this accessible resource makes it fast and easy to start capturing professional-quality photos. Full-color format helps bring the information to life Includes coverage of the latest DSLR cameras to hit the market Provides a foundation on exposure settings, file formats, and editing photos Offers expanded content on capturing the portraits, action shots, nature shots, and night shots photographers love to take If you're interested in capturing more than just a "selfie" and truly want to hone the craft of digital SLR photography, Digital SLR Cameras and Photography For Dummies sets you up for success.
Explore Book
Buy On Amazon