If you want to take action shots on your digital single-lens-reflex camera (dSLR), you should make shutter speed your top priority. All else is secondary. Use the largest aperture you can and raise the ISO as much as you need to for the best exposure. A blurry action shot isn't worth printing and framing.

The other element to keep in mind is that capturing action is about motion. Put your camera in a continuous focus mode so that it keeps focusing as long as you have the shutter pressed halfway. Use a single autofocus (AF) point for the greatest focusing precision. If you need help tracking your subject, switch to a zone AF mode.
Track the action
You can't get much more action-oriented than the photo I took of this Lockheed Martin F-22 Raptor performing a demonstration flight at an air show. It screamed across the sky. I get goosebumps just thinking about it. To capture this sort of action, you need a fast shutter speed and the reflexes to frame and track a moving target, focus, and take the photo before you lose the shot. I used a monopod to support the heavy camera and the large super-telephoto lens I was using. I took this shot with a Nikon APS-C dSLR in shutter-priority mode at 300mm, f/4.5, 1/1000 second, and ISO 125.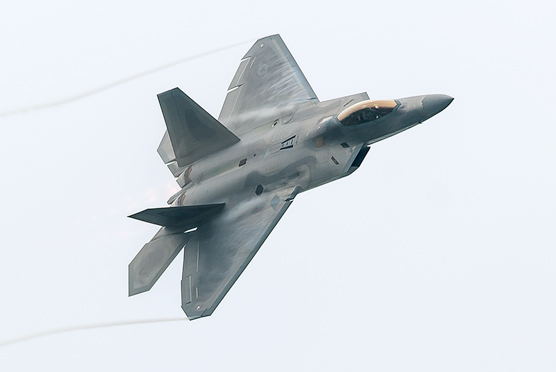 This was an awesome fly-by.

When photographing a fast subject, don't point the camera at one spot and expect to get a good photo as it moves through the frame. Instead, track and pan to follow it as best you can, using continuous focus to lock on. This technique takes some practice to get good at. Hone your skills by focusing on cars driving by, birds, or other animals that might be running around in your nearby environment.

Keys to this photo:
Very fast shutter speed needed to photograph the fast jet
Super telephoto lens to capture action at a distance
Monopod for help in supporting heavy camera and lens
Fast tracking, panning, framing, and focusing skills
Use an external flash
I don't normally use a flash when engaged in action photography. When I do, I use an external flash. This setup enables high-speed sync, which works with faster shutter speeds than the camera's built-in flash.

This is how I captured the photo in the following figure: I was at an outdoor mall with my wife and the kids, taking fun shots with my Nikon APS-C dSLR and AF-S NIKKOR 24-70mm F2.8G ED zoom lens. I wanted to use a fill flash to light their faces better. I needed a fast shutter speed because I was shooting action. I connected my external flash and enabled High-Speed Sync. I took this shot in aperture-priority mode at 70mm, f/3.5, 1/1600 second, and ISO 100. The lighting was strong enough overall that I knew the shutter speed was going to be fast, so I decided to control the aperture directly.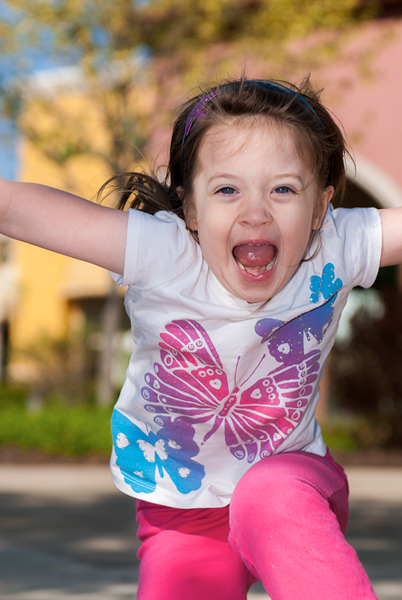 Using high-speed sync for action fill flash
Keys to this photo:
External flash made high-speed sync possible
Very quick shutter speed froze the action perfectly
Fantastic lens rendered the scene beautifully
Near-telephoto focal length meant that I could stand back and not get jumped on
Find the right spot
If you're going to photograph action that is predictable, choosing the right location increases your chances of capturing a great shot. For example, the photo I took at a harness race captured horse and driver as they made the final turn and began their push toward the finish line. Although I couldn't know exactly how the scene was going to develop each time around, the distance, angle, and general action were the same each time. Knowing this, I was able to scout out a few different locations, and it helped me reliably capture great shots because I knew what to expect.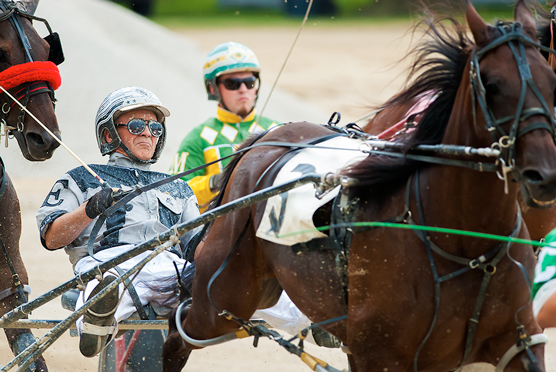 Finding the right location helps you capture the right moment.
In this case, the challenge of each shot was to quickly frame the specific scene I wanted to capture and time the shot. Action is about capturing fleeting moments. It's not like a portrait for which you can line people up and tell them to hold still. Timing is very important, and practice helps quite a bit.
As with other action shots with lots of motion, this shot required a fast shutter speed. I used a Nikon APS-C dSLR and 300mm super-telephoto lens set to f/4. The shutter speed was 1/1000 and the ISO was 500.
Keys to this photo:
Location, location, location
A sense of timing to capture the right moment
Fast shutter speeds for fast action
Fast shutter speeds often result in high ISO
Great light is great
Not everyone can go to an NFL game and photograph professional athletes in their element. For many people, backyard fun with family or friends is where the action is.

I took the photo shown one day near the end of November. We were horsing around in the back yard. The kids were pretending to score touchdowns and then leaping up on a piece of play equipment. Sam (to the right) looks like he's guarding Jacob, but he's actually celebrating Jacob's Lambeau Leap. Their expressions are priceless.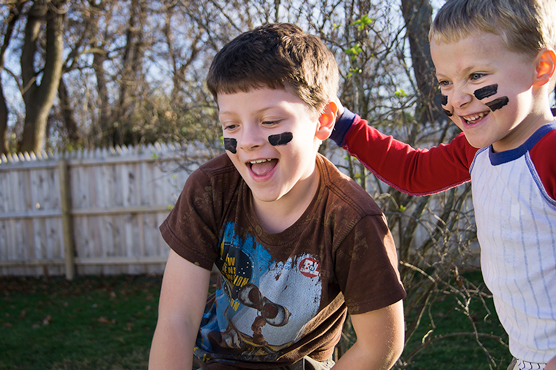 Consumer-level cameras can capture beautiful photos in many conditions.
The thing that strikes me about this shot is how beautiful it is. The light enabled me to capture it with a fast shutter speed. I took this shot with a Sony APS-C dSLT in shutter-priority mode at 35mm, f/4.5, 1/250 second, and ISO 125.
Keys to this photo:
Great light makes capturing action easier, and your subjects will look prettier.
Not everything has to be 1/1000 second. Sometimes, 1/250 is fine.
You don't always have to use a super telephoto lens. I shot this with a standard zoom lens on a Sony APS-C dSLR at 35mm.
Action is action, whether it's in a yard or at a professional sports venue.
Push the dSLR camera to the limits
When you're photographing people in action, especially indoors, you often have to push the camera to its limits. I took the photo shown during a practice session of our church band. I consider this an action shot because my focus was on capturing the performer's movements. The challenge, in this case, was to capture those movements in relatively low light.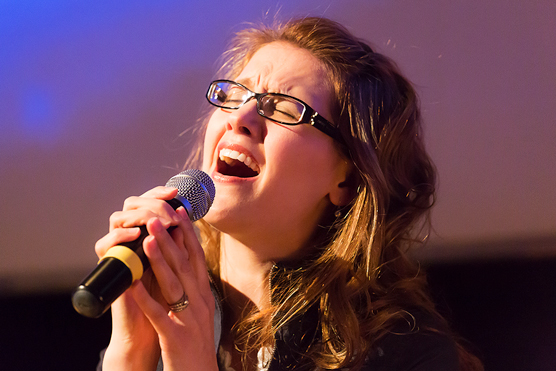 A superior camera and lens can shoot at high ISOs with little to no noise.
What surprised me at the time was having to push a professional camera and lens to their limits to get this shot. You can't get a much better combination than the full-frame Canon 5D Mark III and EF 70-200mm f/4L IS USM telephoto zoom lens, and they were barely able to capture this moment. The ISO rose to a staggering 12800 to take this shot at 1/250 second. I set the camera to shutter-priority mode and zoomed in to 135mm. The camera set the aperture to f/4.
Keys to this photo:
Some conditions are a challenge even when using the best equipment.
Professional cameras shoot much better photos at high ISOs.
Interior lighting may look fine to your eye but not be strong enough to support fast shutter speeds.
Use shutter-priority mode when photographing performers on stage.
About This Article
This article can be found in the category: