Nikon
How do you use the flash on your Nikon D3300? How do you switch to Live View Mode? Answer questions like these — and tons more — with our huge collection of Nikon camera articles.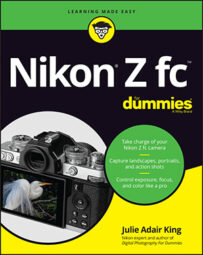 Nikon
Nikon Z fc For Dummies
Published 04-11-2022
This book takes you on a comprehensive and user-friendly tour of the Nikon Z fc camera, and shows you how to get the most of it. It covers the camera's controls and buttons, settings, and all of its automatic and manual options. Also included are easy-to-follow instructions on tried-and-tested photography techniques.
Explore Book