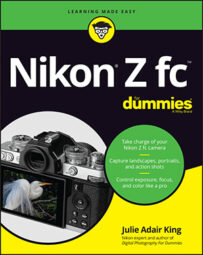 Nikon Z fc For Dummies
By: Julie Adair King Published: 04-11-2022
This book takes you on a comprehensive and user-friendly tour of the Nikon Z fc camera, and shows you how to get the most of it. It covers the camera's controls and buttons, settings, and all of its automatic and manual options. Also included are easy-to-follow instructions on tried-and-tested photography techniques.
Articles From

Nikon Z fc For Dummies
Nikon
Nikon Z fc For Dummies Cheat sheet
Cheat Sheet / Updated 02-24-2022
For times when you don't have access to your copy of Nikon Z fc For Dummies book, this Cheat Sheet offers a handy reference guide. It includes a map to the camera's exterior controls, along with basic information about exposure modes and the functions played by each button, dial, and switch.
View Cheat Sheet