Choosing a Digital Camera Bag
Choosing a Digital Camera Bag
Depending on the size of your digital camera and its accessories, you may need a camera bag. When deciding on a camera bag, you need to consider several factors to get the best bag for your digital camera needs: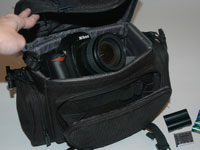 1

Figure out the size you need by tallying everything you want to carry in the bag

Your camera bag should hold your basic camera setup, as well whatever other gear you might need, such as lenses or extra batteries.
2

Decide in what conditions you plan to use your camera bag.

You may want a bag with multiple compartments that you can reconfigure to adapt to different conditions.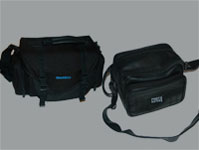 3

Weigh your camera-toting style against potential camera bags' toughness.

If you're going to be hard on your camera bag, get one made of rip-stop nylon or canvas. You can also find leather camera bags.
4

Go for either security or convenience (or find a compromise).

Some bags keep your equipment safe and sound, no matter what, but they can be difficult to get open in a hurry. Others are easy to access but increase the risk of accidentally opening.