Using iWork and iLife Apps on Your iPad
Using iWork and iLife Apps on Your iPad
The iWork and iLife apps have been completely redesigned to take advantage of iOS 7; updated to 64-bit; and integrate seamlessly with iCloud. That was good news, but the even better news is that iWork and iLife are free with the purchase of any new iOS device or Mac. They're also available as free updates for existing users, so if you already have a copy, you're entitled to a free update.
The iWork suite: Pages, Numbers, and Keynote
The new iWork suite for iOS (and Macs) makes creating, editing and sharing documents easier than ever. Its new, unified file format provides excellent document fidelity across Mac, iOS and iCloud. So you can create a document on your iPad, edit it on your Mac and collaborate with friends in iWork for iCloud, even if they're using a PC! The apps are simple to use, but include robust tools for creating stunning documents, spreadsheets and presentations.
Pages
Pages is perhaps the most full-featured and competent word-processing and page layout app for the iPad at any price. Start with a blank page or choose from over 60 professionally designed templates including reports, letters, resumes, posters, and more:

Or, if you prefer, you can import Microsoft Word and plain text files and edit them in Pages. Then, use Pages on your iPad the same way you'd use your desktop word processor because it's almost as capable.
For example, not every font available on your computer will be available on the iPad. That said, you have considerable control over the appearance of the numerous attractive fonts that are available.

It's easy to add photos or videos to your document from the Photos app, and wrap text around images like a page layout program. The Pages app even lets you create tables and charts on your iPad, just like the expensive desktop apps!
There are also advanced writing features such as change tracking, commenting, and highlighting, all of which make Pages useful for collaboration. And other niceties, like footnotes and endnotes, as well as character, word, and paragraph counts.
When you've finished your masterpiece, you can share your creation via AirDrop, Mail, Messages, iTunes, or WebDAV server. But first, you get to choose the file format most appropriate for the recipient.

Pages has everything you'll need to write or edit any amount of text. From a simple greeting card to a book length manuscript, Pages can handle it.
If you do much writing or text editing on your iPad, consider acquiring a Bluetooth keyboard. Typing on a touchscreen works great, but it's less than ideal if you have much to type. A Bluetooth keyboard makes typing feel like typing again. You'll double, triple, or even quadruple your typing speed (versus typing on the touchscreen). If you use Pages a lot, a keyboard will makes the experience much more pleasant.
Numbers
Numbers is an easy-to-use spreadsheet for iPad. Unlike Microsoft Excel, Numbers is a free-form spreadsheet. Start with a Microsoft Excel or CSV file, a blank page, or more than 30 attractive templates for invoices, checklists, budgets, retirement savings, and many others: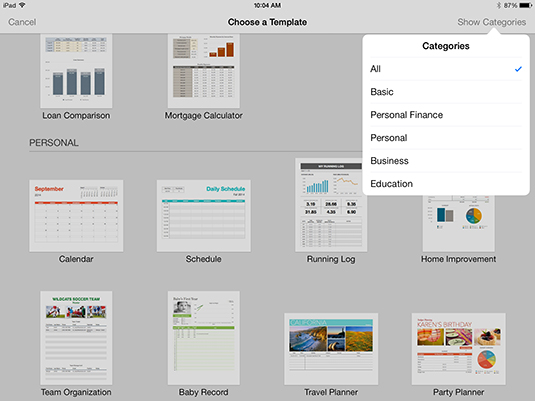 The "free-form" part is that unlike Excel, with Numbers you start with a blank "canvas" rather than a grid of cells. You place tables, charts, photos, text, and images on the blank canvas (or template) and arrange elements as you choose. The result is an attractive document with the intelligence of a traditional spreadsheet.
And because the iPad is so lightweight and easy to carry, you can use Numbers documents interactively. Take, for example, the Retirement Savings template shown here:

If you replace the numbers in the Life Plans and Financial Information sections with your own personal information, the Retirement Goals and Cumulative Retirement Savings graph will update instantly and show your retirement goals and cumulative savings.
And it's easy as pie to use. For example, just tap an image or graph to see formatting options. Or double-tap a cell to add text, formulas, functions, dates, times, and more:

Speaking of formulas and functions, Numbers has over 250 functions with built-in help and sample formulas for each function.
The bottom line is that Numbers makes creating beautiful, intelligent, interactive documents faster and easier than any other spreadsheet.
Keynote
Keynote is Apple's answer to Microsoft's venerable PowerPoint program, a splendid app for all the spiffy slideshow presentations that you create on your iPad. Version 2.0 for iOS supplies nifty cinematic animations and special effects, interactive charts (scatter, bubble) and easy ways to share your presentations via Mail, Messages, Twitter, Facebook or iCloud.
Start by tapping Create a Presentation at the bottom right corner of the screen and choose among the 30 Apple-designed themes. These carry such names as Photo Essay, Cream Paper, Artisan Editorial, Improve and Renaissance.

Whichever theme suits your fancy, Apple has put in placeholder text that you double-tap on to edit and make your own.
When you're ready to add a new slide to your presentation, tap the + that's inside a square on the bottom left corner of the display. Obviously the new page will be in the same style as the rest of the pages in your chosen theme.
Tap the + on the upper right reaches of the display to add pictures from your Camera Roll or other photo albums, or to add charts (2D, 3D, interactive), alter the text or add symbols.
Tap the icon that resembles a wrench to add transitions and builds, presenter notes, presentation tools (interactive links, soundtrack, presentation type, remote control) and to adjust other settings.
A couple of other buttons you may want to call on regularly: the "?" on the upper right that gives you coaching tips and the Undo button at the upper-left hand corner that is your quickest way to, well, undo a mistake.
The iLife suite: GarageBand, iPhoto, and iMovie
With a new iPad or one that you've upgraded to iOS 7, you have access to three programs in this iLife suite: GarageBand, iPhoto, and iMovie.
iPhoto
The Photos app included in your iPad is a solid digital shoebox for storing, sharing and making simple edits to your pictures. But you'll still appreciate iPhoto for iOS — the iPad equivalent of a popular program on Macintosh computers — especially now that it's free for folks who have iOS 7.
You've got numerous ways to doctor individual images in iPhoto, using slider controls to alter the hues, apply brushes effects (saturate, sharpen, soften, etc.) and more, with lots of sharing options when you're done.

You can work on one of three project types: Photo Book, Web Journal, or Slideshow. If you choose Photo Book, you can create a beautiful bound new hardcover book with a photo-wrapped cover and matching dust jacket that's based on one of four Apple themes you choose, Picture Book, Travelogue, Portfolio or Square x Square. Hundreds of page layouts are available.
Tap the various page options within a book to select them, and touch and hold pages to move them around. You can also touch and hold photos to move them to a different page. Once you've picked your pictures and final layouts, you can order the book from Apple, paying $24.99 for an 8-inch by 8-inch book or $39.99 for a 10-inch by 10 inch version.
If you choose Web Journal as your main project, you can create a picture story that you can publish via iCloud.
Among the other features within the app is the ability to order prints in a wide range of sizes from 12 cent 4 by 6 snapshots to $17.99 20 by 30-inch posters. Panoramas are also a print option.
And here's a cool option. Anyone else running iPhoto with an iPad (or other iOS device) can wirelessly beam photos from their device to yours.

iMovie
Channel your inner-Spielberg using this redesigned version of Apple's simple moviemaking app. The latest version sports a full-screen video browser for enjoying the footage you've shot, plus the type of video effects that will make you feel like a pro. You can change speeds, show a picture-in- picture, and trim, split, fade, or duplicate any clip in the timeline.
Apple added a really cool iCloud Theater feature for watching your cinematic delights across numerous devices, including (for those connected to iCloud) on big screen TVs with the Apple TV set-top box. If you connect to iCloud, you can also watch on your Mac or other iOS devices as well. Inside iMovie Theater tap on a movie poster to see all the details on your movie — its duration, when it was modified, and other details — and to download or play it.
When you first get started with iMovie, choose the project type for your soon-to-be-blockbuster, at least within your own circle of friends and family. You can choose a Movie with a different theme that includes preset graphics, titles and transitions. Of course you get to add your own video, pictures and audio, and make changes on the fly. Or go with a really cool Hollywood-style Trailer instead.

Apple gives you eight Movie themes (Modern, Bright, Playful, Neon, Travel, Simple, News, CNN iReport) or 14 Trailer themes (Adrenaline, Bollywood, Coming of Age, Expedition, Fairy Tale, Family, Indie, Narrative, Retro, Romance, Scary, Superhero, Swashbuckler, Teen) to choose from. Check each and every one of these out by tapping the Play button before making your selection because they're all really cool.
It's only a matter of time before you'll be preparing your Oscar acceptance speech.
GarageBand
The new version of GarageBand represents the biggest update ever to what Apple calls "the world's most popular music creation app. GarageBand is powerful enough for real musicians do real work, yet so easy to use that anyone can create cool sounding "songs," even if they can't play or sing a note. The secrets to creating music without knowing how to create music are GarageBand's Smart Instruments:

Just tap your finger and the smart drummer starts a groove. Don't like that groove? Tap again and try a different one. When you find one you like, tap the Record button. Now tap the smart guitar for beautiful chords in pleasing patterns. Try a few and record the one you like best. Tap the smart bass to add a funky bass line that goes perfectly with the guitar and drum parts you just recorded. Tap some more to add smart keyboard and string parts and before you know it, you've got a "song."
Each GarageBand instrument, smart or regular, offers multiple variations. For example, if you are using the Smart or regular Keyboard instrument, you have a choice of Grand Piano, Electric Piano, Smooth Clav(inet), four different synthesizers, or Classic Rock Organ.

Once you've recorded some tracks, GarageBand makes it easy to mix the tracks together so they sound like a song. Start by switching to Tracks view. Now, you can adjust the relative volume of a track with using its Track Volume slider; or adjust other audio settings such as Pan (placement left or right in the stereo mix), Echo, Reverb, and others by tapping the Mixer Controls button. You can even edit the individual notes in a region (assuming you have some musical abilities) by double-tapping the region to show its editing options, and then tapping Edit.
With support for up to 32 tracks on the most recent iOS devices, and the easy exchange of projects with GarageBand (or Logic Pro) on the Mac, GarageBand is like a recording studio in your iPad. And you can't beat the price — it's free. Even if you spring for the in-app purchase of the complete collection of instruments and sounds for a whopping $4.99, GarageBand is an amazing value. Twenty years ago it took tens of thousands of dollars worth of recording gear to accomplish what GarageBand on the iPad does effortlessly today.
Last, but not least, GarageBand (and all the other iLife and iWork apps, for that matter) includes pretty good online help. To see it, just tap the Song Settings button and then tap Help at the bottom of the Song Settings overlay.

You'll be surprised at what you can create with GarageBand with just a few minutes of experimentation. There's no good reason not to try GarageBand. Just do it — it's more fun than you think.