iPads
Read our handy articles on how to make your iPad dance.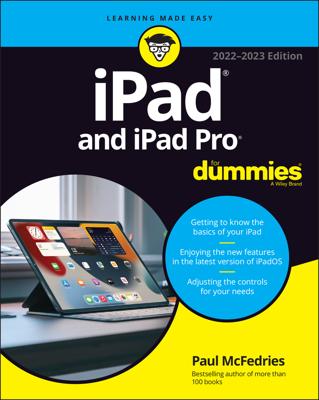 iPads
iPad and iPad Pro For Dummies
Published 04-19-2022
It's tablet time! Get acquainted with the latest iPadOS and devices, the easy way Up a creek without an iPaddle? Dummies has got you covered, with iPad & iPad Pro 2022-2023 For Dummies. This is your stay-afloat guide to the latest version of iPadOS and all the new features of Apple's leading tablet. We offer a step-by-step guide to iPad maintenance, operation, and personalization, so you can figure out your new device quickly and spend your time doing the fun stuff. Photos, videos, apps, productivity, communication, maps, and beyond—plus a host of new features that we'll introduce you to, right in this book. Get acquainted with the basics of using and customizing your iPad or iPad Pro Discover the new and exciting changes that come with the latest iPadOS release Get the most out of your iPad by mastering the top apps and productivity tricks Learn how to ease the transition from computers to tablets, at home or at workFor personal projects or in business settings, the iPad is the tablet of choice, and Dummies is here to show you why. Grab this full-color guide and get iPaddling!
Explore Book
Buy On Amazon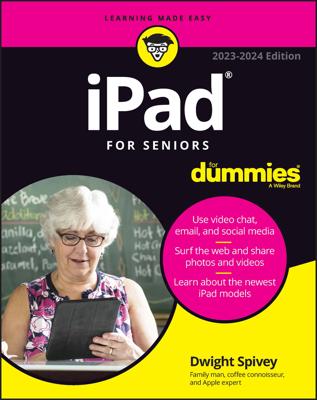 iPads
iPad For Seniors For Dummies
Published 04-05-2022
This bestselling guide can teach anyone the basics of iPad Fully updated for the newest Apple releases, iPad For Seniors For Dummies, 2023-2024 Edition features all the helpful basics you need to know—and beyond! You'll find info on security, using iCloud, setting up an Apple ID (and what that even means, anyway), using the App Store, connecting to Wi-Fi, watching movies and TV, playing games, and staying organized. And it's all in easy-to-read, larger print! What more could you want? Learn the basics of operating your new iPad, the easy way Connect with loved ones through email, video chat, and social apps Discover how to listen to music and watch your favorite movies and TV Find out how using a tablet can make your life easierSeniors new to using the iPad will love this Dummies-style guide for getting started. Feel empowered and more knowledgeable while using your iPad.
Explore Book
Buy On Amazon
iPads
iPad For Seniors For Dummies, 2022-2023 Edition
Published 03-21-2022
This updated guide has all the latest on iPads so you can get up and running on yours quickly and easily. iPads For Seniors For Dummies, 4th Edition includes how to protect and secure the data on your iPad, as well as how to get online, shop, watch videos, listen to music, shoot your own movies, and more.
Explore Book
Buy On Amazon