Synchronize Movies and TV Shows from Computer to iPad
Synchronize Movies and TV Shows from Computer to iPad
If you've downloaded movies or TV shows to your Mac or PC, you can download them to your iPad by syncing. If you chose to let iTunes manage synchronizing your data automatically, you can still manage your automatic syncing options. Make sure that your iPad is selected in the sidebar.
1

Click the Movies button and select the Sync Movies check box.

Your movie download options appear.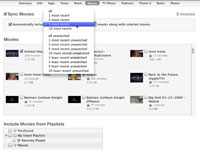 2

Choose an option for movies that you want to include automatically from the pop-up menu, as shown in the figure, or select the check box for each movie you want to sync.

Regardless of the choices you make in the pop-up menu, you can always select individual movies by selecting their check boxes.
3

Click the Sync or Apply button in the lower-right corner of the window.

Your movies are synced.
4

Click the TV Shows button and select the Sync TV Shows check box.

TV show syncing is enabled.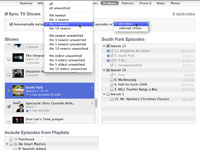 5

Choose how many episodes to include from the pop-up menu in the upper-left corner.

You can also choose whether you want all shows or only selected shows from the pop-up menu in the right corner.
6

If you want to also include individual episodes or episodes on playlists, select the appropriate check boxes in the Episodes section and the Include Episodes from Playlists section of the TV Shows pane.

The Episodes section is labeled South Park Episodes.
7

Click the Sync or Apply button in the lower-right corner of the window.

Your TV shows are synced.

Podcasts and videos (but not photos) are synced only one way: from your computer to your iPad. Deleting any of these items from your iPad does not delete them from your computer when you sync. The exceptions are songs, podcasts, videos, iBooks, and apps that you purchase or download on your iPad, and playlists that you create on your iPad.

Such items are, as you'd expect, copied back to your computer automatically when you sync. And if you save pictures from e-mail messages, the iPad 2 camera, web pages (by pressing and holding on an image and then tapping the Save Image button), or screen shots (which can be created by pressing the Home and Sleep/Wake buttons simultaneously), these too can be synced.