Search for iPad 2 Items with Spotlight
Search for iPad 2 Items with Spotlight
The search feature in iPad (Spotlight) helps you quickly find photos, music, e-mails, contacts, movies, and more. Because Spotlight is so easy to use, and it provides quick results, it has its own screen.
1

Press and drag from left to right on the Home screen to display the Spotlight screen.

You can also, from the primary Home screen, click the left side of the Home button to move one screen to the left.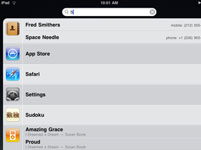 3

Begin entering a search term.

For example, if you type the letter S, the search results might display contacts that begin with S, a couple of built-in apps, and some music, as well as a few e-mail messages. As you continue to type a search term, the results narrow to match it.
4

Tap an item in the search results to open it.

The matching contact, app, music file, e-mail, or other item opens.