Register Your iPad 2
To register your iPad 2, you'll need a computer and Internet access. Before registering the iPad, you'll also need to install iTunes on the computer and create an iTunes account.
You can use a Mac or PC with you iPad 2, provided it has a USB 2.0 port and uses Mac OS X version 10.5.8 or later (for a Mac) or Windows 7, Windows Vista, or Windows XP Home or Professional with Service Pack 3 or later (for a PC).
If you buy your iPad at an Apple Store, an employee will register it for you and you can skip this whole process.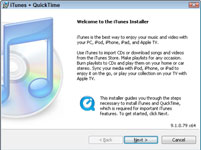 1

Install iTunes on your computer and create an account.

The first time you turn on your iPad, you have to register it using a connection to a computer with the latest version of iTunes installed. Install iTunes on the computer if needed, but don't worry about the connection business just yet.

Hold the iPad with one hand on either side, oriented like a pad of paper.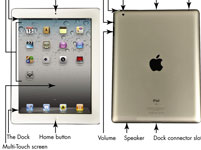 2

Press and hold the Sleep/Wake button on the top of your iPad until the Apple logo appears.

In another moment, a screen appears that displays a picture of a cord plugging into an iPad, indicating your next step.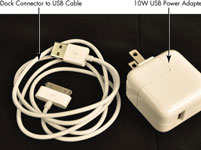 3

Plug the Dock Connector to USB Cable that comes with your device into your iPad.

The Dock Connector Slot is located at the bottom of your iPad.
4

Plug the other end of the cable into a USB port on a computer.

Both your computer and the iPad think for a few moments while they exchange data.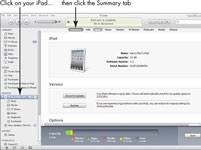 5

Sign in to your iTunes account in the dialog that appears on your computer screen.

Follow the simple onscreen instructions to register your iPad and choose the content to automatically download when you connect the iPad to your computer. (You can change these settings later.) When you're done, your iPad Home screen appears and you're in business.
6

Unplug the Dock Connector to USB Cable.

All done! Now you can explore you iPad 2.