Make iPad Music with the GarageBand App
Make iPad Music with the GarageBand App
GarageBand is a music composition and playing app that has been pre-installed on Mac computers for a while, and now it's available for iPad. You have to buy the app for about $5 from the App Store. After you install it, you can start making music as follows: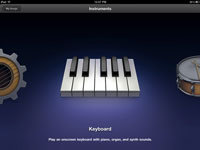 1

Tap GarageBand on the Home screen where it appears.

A menu of instruments appears. Swipe left or right to scroll through the instruments.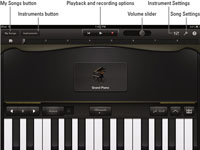 2

Tap an instrument, such as Keyboard, to display it.

Each instrument has slightly different options, but all allow you to record what you play on the virtual instrument, play it back, visit any songs you have saved, control volume, and return to the main menu of Instruments. Tapping the Instruments button allows you to change to a different instrument.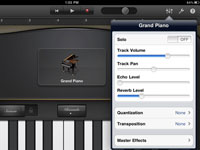 3

Tap the Instrument Settings button to control settings such as echo and reverb.

These options let you give your music cool effects. The Song Settings button lets you add sounds or adjust the tempo.
4

Tap the instrument to produce sounds.

If you want to record what you're playing, tap the Record button to start recording and tap it again when you're done.