Looking at the External Features of the iPad
Looking at the External Features of the iPad
When you fork over your hard-earned money for your iPad, you'll be left holding one box about the size of a package of copy paper. One of the things in that box is a small card that displays a picture of the iPad and callouts to its buttons.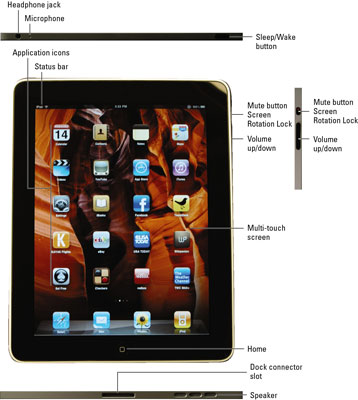 Here's the rundown on what these external features are and what they do:
(The all-important) Home button: After iOS 4.2 added the ability to multitask (have various apps open at the same time and switch among them), you didn't have to use the Home button to switch among open apps, but it's still the case that no matter where you are or what you're doing, you can push Home and you're back to home base.

Sleep/Wake button: You can use this button to power up your iPad, put it in sleep mode, wake it up, or power it down.

Dock connector slot: This is where you plug in the dock connector cord to charge your battery or sync with your computer.

Screen Rotation Lock: If you want to stick with one orientation, even if you spin the iPad in circles, you can use this little switch to lock the screen, which is especially handy when reading an e-book in bed.

With iOS 4.2, the Screen Rotation Lock button's function changed and became the Mute button.

(A tiny, mighty) Speaker: It's surprising how much sound can come out of this little speaker. The speaker is located on the bottom edge of the screen below the Home button.

Volume: A volume rocker you use like any other volume rocker: tap up for more volume and down for less.

Headphone jack and microphone: If you want to listen to your music in private, you can plug a 3.5mm minijack headphone in here (including an iPhone headset if you have one, which gives you bidirectional sound). There's also a tiny microphone that makes it possible to speak into your iPad to do things like make phone calls using Internet calling services.