Learn with iTunes U on Your iPad or iPad mini
Learn with iTunes U on Your iPad or iPad mini
iTunes U is a free app for watching lessons and courses on your iPad or other iOS device. You can download a wide variety of lessons and courses for free from the iTunes Store and study them on your iPad. Schools and colleges can develop iTunes U content and distribute it via the iTunes Store.
Download and install Apple's iTunes U app from the App Store, and then follow these steps to search for and subscribe to courses, and then download and prepare to stuff your brain.
1

Press the Home button.

The Home screen appears.
2

Tap iTunes U.

The iTunes U app opens, showing your library — the iTunes U lessons on your iPad. Initially, when you haven't added any lessons, you see an informational message (see A in the image).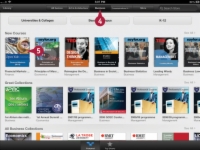 4

Tap the category of content you want to see.

The category's screen appears. You can also search for courses by tapping Search Store and then typing search terms in the Search box.
5

Tap a course that interests you.

You'll have plenty to choose from!
7

Tap the down arrow to download a lesson from the course.

The arrow is on the far right, as shown in the image.
8

Tap Library.

Your library appears, now showing the course or courses you have added.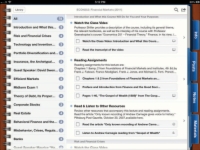 9

Tap the course that whose lessons you want to view.

The lesson opens, and you can start working on it.

Wondering if there are other ways to get iTunes U courses? If you sync your iPad with a computer, you can use iTunes to download courses and lessons and then sync them to your iPad: (1) To access iTunes U content in iTunes, go to Source list→Library→iTunes U; (2) To subscribe to iTunes U content in iTunes, go to Source list→Store→iTunes Store→iTunes U.