How to Take Pictures with the iPad Camera
How to Take Pictures with the iPad Camera
When you use an iPad camera, you can switch it between a standard camera and a video camera, and choose whether to use the front or rear camera. To work with the standard camera to take pictures, follow these steps: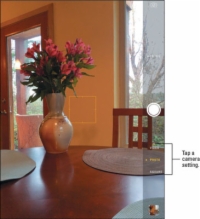 1

Tap the Camera app icon on the Home screen to open the app.

If the orange-highlighted word in the row of words below the Capture button is Video, slide up to set Photo (the still camera) as the active setting rather than video.
2

Set the Square option using the same slider control below the Capture button.

This setting lets you create square images like those you see on the popular Instagram site.
3

Move the camera around until you find a pleasing image, and then you can do a couple of things at this point to help you take your photo:

Tap the area of the grid where you want the camera to autofocus.

Pinch the screen to display a zoom control; drag the circle in the zoom bar to the right or left to zoom in or out on the image. Note that zooming doesn't change resolution and so can degrade the image.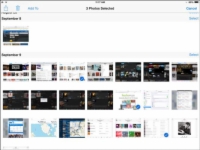 4

Tap the Capture button at the right side of the screen.

You've just taken a picture, and it's stored automatically in the Photos app Camera Roll.
5

Tap the icon in the top-right corner to switch between the front camera and rear camera.

You can now take pictures of yourself.
6

Tap the Capture button, hold and release it to take another picture.

Alternately, you can use the volume rocker as a shutter release. Remember to smile!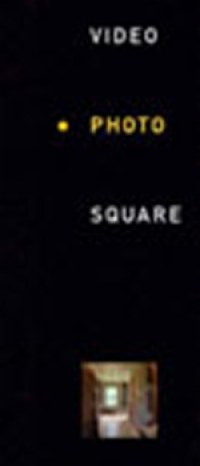 7

To view the last photo taken, swipe to the left or tap the thumbnail of the latest image in the bottom-right corner of the screen.

The Photos app opens and displays the photo.
8

Tap Done.

You return to the Camera app.
9

Tap the Home button to close the Camera app.

The iPad returns to the Home screen.