How to Sync Contacts with Your iPad Using iTunes
How to Sync Contacts with Your iPad Using iTunes
The Contacts application's entire purpose is to store contact information and make it available to you on your iPad. But first, you have to make that information available to your iPad. You can use your iTunes account to sync contacts between your e-mail accounts and your iPad Contacts application. This sync works in both directions: Contacts from iPad are sent to your e-mail account, and contacts from your e-mail account are sent to your iPad.
1

Connect your iPad to your computer with the Dock Connector to USB Cable.

The iTunes window opens on your computer.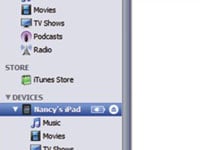 2

On your computer, double-click the name of your iPad, which is now listed in the iTunes source pane.

You can use a MobileMe, Gmail, or Microsoft Exchange account to sync contacts with iPad, but MobileMe charges a subscription fee. Microsoft Exchange may, for example, be what a company uses for its networked e-mail accounts, so if you're not working for a big company, this may not be an option.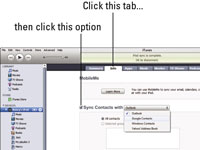 3

Click the Info tab, select the Sync Contacts check box, and choose your e-mail provider.

Windows opens a drop-down and Mac opens a pop-up menu. You may be required to agree to share your contacts and provide your username and password for the e-mail account.
4

(Optional) If you want to replace the information on your iPad with the e-mail account information, scroll down to the Advanced section, select the Contacts check box.

Your contacts will be replaced.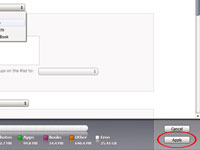 5

Click Apply.

The first time you do this, a dialog appears asking if you want to Merge or Replace contacts on the iPad.
6

Click the option you prefer.

After any changes are applied, the Apply button turns into the Sync button, and your iPad screen changes to show that syncing is in progress.

When the sync is complete, you can open Contacts on your iPad to see all your contacts have been imported.